Hybrid Learning
While in hybrid learning, students can follow Casual Uniform while on-campus.
2020-21 Uniform Policy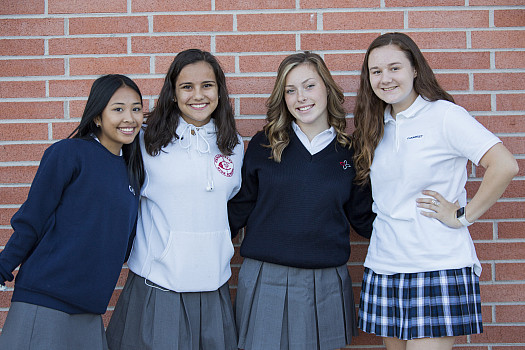 Our uniform guidelines ensure that all of our students feel comfortable, ready to learn, and united as a community. In addition, our uniform code helps to teach young people that in the larger arena of life, different types of dress are appropriate for different settings.
Students who attend Carondelet are expected to adhere to the following uniform policies for the entire school day at Carondelet and De La Salle including exam days and field trips (unless students are otherwise instructed by a teacher).
Please note the additional pant options for the 2020-21 school year.
Order Uniforms with Mills Uniform
Everyday Uniform
Shirts: Polo shirts, white and navy blue.
Skirts: Plaid or gray pleated uniform skirt or navy blue or gray A-line uniform skirt. Skirts should be worn mid-thigh or longer and should be buttoned and zipped and not rolled at the waist. Biker shorts, solid black full-length tights, or solid black leggings must be worn under the skirt at all times.
Pants: Khaki, black or navy pants, capri-length or longer. No rips or tears in any fashion. Pants may be purchased through any vendor and must be chino, twill, or denim material. Sweatpants and leggings are not permitted.
Outerwear: Carondelet branded outerwear, sold through Mills or the online school store. This includes Carondelet approved sports team wear and club/council sweatshirts. No other outerwear is permitted.
Sweater: Navy blue pullover sweater or sweater vest with the Carondelet logo.
Tights: Solid black full-length tights or solid black leggings may be worn with the regular uniform.
Shoes: Shoes must be worn at all times on campus and at all school-related events. Low or high top sneakers, athletic shoes or flats may be worn. Shoes must always be flat and closed toed/heeled.
Dress Uniform
Worn on liturgy days and other announced days
Top: A white polo shirt and school sweater or school sweater vest.
Bottom: Skirt (worn with black solid tights or leggings) or uniform pants.
Shoes: Solid black shoes. Ballet flats, boots, and athletic shoes are all permitted.
Casual Uniform
Can be worn while on-campus during hybrid learning
Worn on Fridays and other announced days
Top: In order to promote school unity and community, students are expected to wear a white or navy blue polo shirt, Carondelet sweatshirts, Carondelet club, sport or spirit t-shirts.
Bottom: Blue jeans, capri length or longer.
Shoes: Low- or high-top sneakers or athletic shoes (lace up or slip on), or flats, and all shoes must be closed toed and closed healed.
No tight or altered shirts or jeans are allowed. Students choosing not to wear the casual dress uniform must be in everyday uniform.

Uniform clothing may not be altered in any manner. No additional items of clothing may be added to the uniform.
Senior Privileges
It is customary for our senior class to have a senior privilege related to the uniform code. We will be working with the class of 2021 and their moderators to determine how this special opportunity for tradition will look next year.
Mills Uniform
**Our school uniform provider is Mills Uniform Company. Uniform pieces can be ordered online through the link on our website or in person at their seasonal store. Be sure to register your email with Mills so that you are notified of any sales and where the seasonal store will be and when it will open.
---