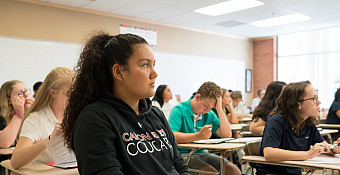 Our 9-acre main campus, which spans Concord and Walnut Creek, was voted one of the most attractive school campuses in the state, offering the new Jean Hofmann Center for Innovation, community gathering spaces, and labs with cutting-edge technology.
Our new 6-acre Carondelet Athletics Complex gives our athletes the state-of-the-art facilities they need to reach their full potential.
Find out why Carondelet is more than a high school, by attending one of our Admissions events.
We'll do our best to make the application process as straightforward and transparent as possible. Please don't hesitate to contact Jessica Mix, our Director of Enrollment, with any questions.
Transfer Applications open
Students interested in transferring into Carondelet should contact Jessica Mix to review the process and timeline.