Carondelet High School offers a variety of virtual and in-person opportunities for families to experience life at our school. See below to learn more about our annual admissions events for prospective students and families. Tours are now open for the 21-22 Admissions season! Other 21-22 Admissions Events will open starting September 1, 2021 - stay tuned!
Virtual Tour
If you cannot attend a school tour on our campus, you can watch our virtual tour video anytime! See the places our students call home and meet the people who make it feel that way. Watch our Virtual Tour.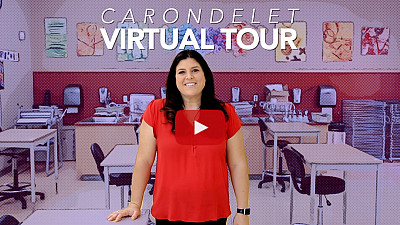 On-Campus School Tours
Let us show you around our beautiful campus! School tours are available for students and one parent. Tours are offered on select  afternoons in May for the 21-22 Admissions season. There is very limited availability due to safety protocols. 
Register through our Inquiry Form
Virtual Town Halls
Town Hall recordings from the 20-21 admissions season are now available. Town Hall topics include:
Enrollment 101
Her Education: Academics 
Her Experience: Student Life & Athletics
Admissions Q&A
Mathematics at Carondelet