2022-23
The bell schedule for the 2022-23 school year: View/download printable bell schedule.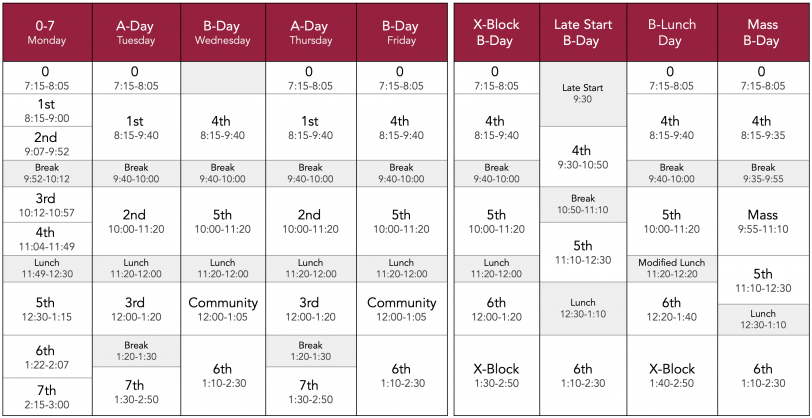 We will continue with five days a week of in-person, academic instruction.
Mondays will be Periods 0-7 and Tuesday through Friday will be alternating 80-minute blocks called A-Day (0-1-2-3-7) and B-Day (0-4-5-6).
On B-Days, we'll integrate Community Time. Community Time will have check-ins, discussions, and opportunities for students to connect. Some Community Times will have masses/prayer services or assemblies and rallies (there will be special schedules connected to those days).
Some Wednesdays will be designated as Late Start days with school starting at 9:30 AM (4th period).
Some Fridays, X-Block will replace Community Time. X-Block will be dedicated academic and co-curricular time when students may meet with teachers/counselors, do makeup testing, meet with a club/organization, work on a project or homework. For some students, the school may mandate academic support during X-Block.
Short, four-day weeks (holidays, professional development days) will only have A/B days, no 0-7 days.
Daily Announcements will be the first five minutes of 1st and 4th periods on block days.