2023-24
The bell schedule for the 2023-24 school year: View/download printable bell schedule.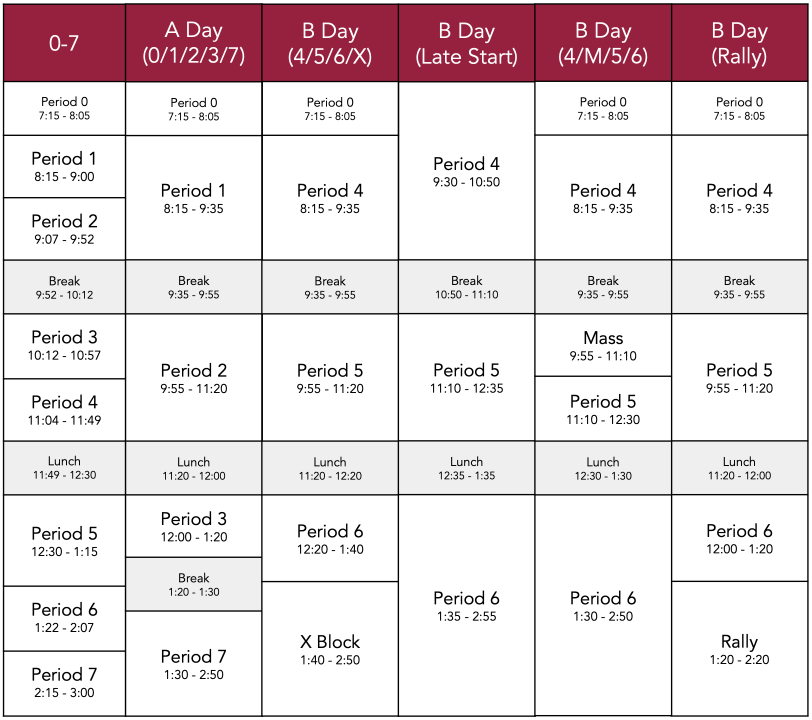 Last Update: June 8, 2023
Mondays are periods 0-7 and Tuesday through Friday will be alternating 80-minute blocks called A-Day (0-1-2-3-7) and B-Day (0-4-5-6).

B Days include 60 minute lunch periods where student life programming such as prayer services, class meetings, club meetings, etc. will be held.

Some Wednesdays will be designated as late start days with school starting at 9:30 AM (4th period).

X-Blocks on B days will be dedicated academic and co-curricular time when students may meet with teachers/counselors, do makeup testing, meet with a club/organization, work on a project or homework. For some students, the school may mandate academic support during X-Block. Classes will have specific programming designed for them (e.g., College and Career Counseling, class specific activities). This block may also be used for school wide activities and programming. Information on particular use of X block time will be publicized in the e-News and on Schoology.

Short, four-day weeks (e.g., holidays, professional development days) will only have A/B days, no 0-7 days.

Daily announcements will be the first five minutes of 2nd and 5th periods on block days.