Shuttle Temporarily Suspended
The morning shuttle has been suspended until the school opens more widely and ridership increases. However we are still taking reservations on a first come first serve basis and will reopen shuttle service if there is enough interest.
Cost is $500/semester or $125/month. Once the service resumes you will be contacted with a confirmation. If you have already signed up, no need to take action, you are confirmed. Due to COVID-19 regulations only 14 riders are permitted on the bus at one time. Plans for our shuttle may change before the start of next school year, based upon county guidelines due to COVID-19.
Also note that the after school shuttle to the CAC has also been suspended as well. Please feel free to contact Diane Milano with questions or concerns.
Information
The shuttle runs M-T-Th-F. Due to COVID regulations and guidelines only 14 passengers will be allowed on the bus at any given time and all passengers must wear a mask at all times when riding the bus. The shuttle makes three stops along the route for communal pick-ups—in Livermore, Pleasanton, and Danville—before arriving on campus. Details available below.
If you would like your daughter to take the morning shuttle please fill out the reservation form to reserve your spot. Pricing is still being determined at this time.
Schedule
School-managed bus transportation is available in the mornings from the Tri-Valley area with several communal stops near the highway on the way to Carondelet.
Registration for this service is required and is filled on a first-come, first-served basis. Registration is open to all Carondelet students.
Additionally, there will be free, one-way transportation to the Carondelet Athletics Complex available to Carondelet students after school.
Morning Schedule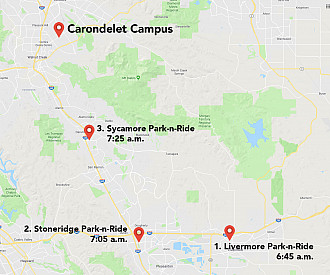 CITY
LOCATION
DEPART TIME
Livermore
Portola Ave. Park-n-Ride
1662 Portola Ave.
6:45 AM
Pleasanton
Stoneridge Dr. Park-n-Ride
7295 Johnson Dr.
7:05 AM
Danville
Sycamore Dr. Park-n-Ride
Sycamore Valley Dr., near I-680
7:25 AM
 
Carondelet HS Drop-Off
7:45 AM
Afternoon Schedule
Students may take the free shuttle from the main campus to the Carondelet Athletics Complex. There is no cost and no need to pre-register. There is also no return service from the CAC back to the main campus later in the evening.
Pickup Location: on sidewalk of Winton Drive in front of the Jean Hofmann Center for Innovation. Pickup times stay the same even on early release days.