Upcoming Events
Fathers Club Meeting - JOIN US ON CAMPUS!!
Thursday, September 9th 7:00PM - 8:30PM PST
Join us for Dinner & Drinks as we discuss the following:
Welcome new Dad's joining the Carondelet Family this fall
Guest Speaker: Kevin Cushing, Principal
Discuss calendar of events for 2021-22 school year
7:00 - 7:30pm - social
7:30 - dinner & meeting
Advance Sign-Up Required & Dinner 
Father/Daughter Hike 
Saturday morning, a small group of intrepid hikers braved the heat and the smoke for the Father Daughter hike on the John Muir Land Trust's Fernandez Ranch property. Fortunately we beat the heat and the smoke had dissipated, so dads and daughters alike made new friends, enjoyed the scenery, and got some exercise. A great time was had by all!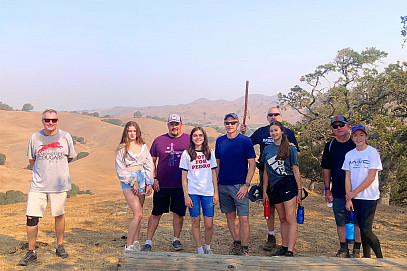 Stay tuned for more opportunities get together!
About Us
The Carondelet Fathers Club was founded in 2019 to connect the dads and father-figures of Carondelet students, creating fellowship and enhancing the high school experience not only for our daughters, but also for our families, by modeling a spirit of volunteerism. Carondelet families come from many different middle schools and parishes. The Fathers Club is one way to bring these disparate groups together to form a new community – the Carondelet community. Through social events and service projects, our goal is to forge new friendships that will last far beyond our daughter's graduation.
The Fathers Club is open to all current and alumnae Carondelet Dads.