Upcoming Events
Fathers Club Meeting
Thursday, December 10th 5:00PM - 6:30PM PST
Father/Daughter Community Service Project
Saturday, December 5th | 8:30AM-10:30PM | Food Bank Contra Costa & Solano- Concord Warehouse
Sign up here
Sunday, December 13th | 2:00PM-4:00PM | Food Bank Contra Costa & Solano- Concord Warehouse Sign up here
Sunday, November 8th
We had 15 Dad's & daughters help sort food at the Food Bank's Concord Warehouse. It was a great afternoon working together sorting and bagging food to help support our local schools.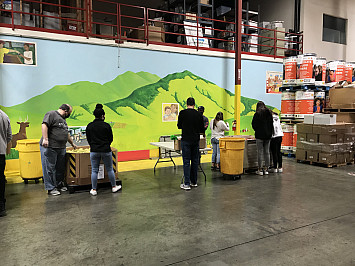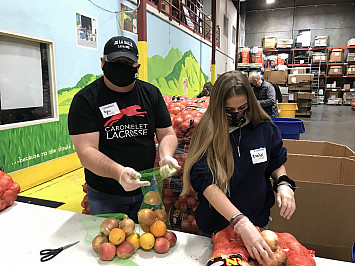 Last Meeting
Great meeting November 5th.
30+ Dad's joined us to say hello, receive an update from President, Rick Schultz, an opening prayer from Vice President, Jack Martin and hear advice from our guest speaker,
Steven Campbell
, about how your brain works based on your gender.
Steven is a professor, speaker, author, father and husband – married for over 47 years – who has been teaching Tame Your Mind for colleges, universities, businesses and audiences for over 30 years. He spoke to our Dads about how to use their brains to stop negative self-talk in it's tracks, how your belief/disbelief in what you can do has a direct impact on the outcome and gave tips on how to build a stronger, more understanding relationship with their daughters.  It was a wonderful, enlightening discussion and a MUST READ for all ages.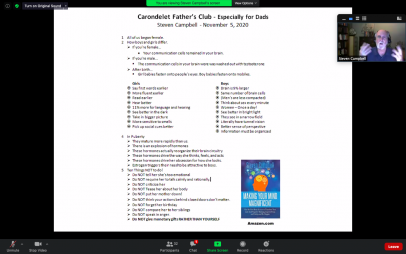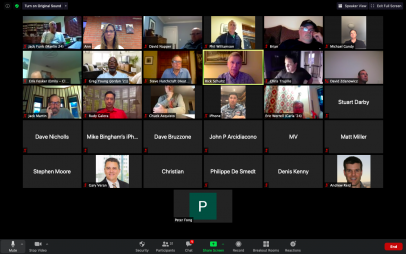 About Us
The Carondelet Fathers Club was founded in 2019 to connect the dads and father-figures of Carondelet students, creating fellowship and enhancing the high school experience not only for our daughters, but also for our families, by modeling a spirit of volunteerism. Carondelet families come from many different middle schools and parishes. The Fathers Club is one way to bring these disparate groups together to form a new community – the Carondelet community. Through social events and service projects, our goal is to forge new friendships that will last far beyond our daughter's graduation.
The Fathers Club is open to all current and alumnae Carondelet Dads. Register Here