Welcome to your Library
Our librarian, Ms. Koski is happy to see students in the Library. She is on campus 7:30 AM - 3:30 PM during the school year to assist with books, resources, or research and is always happy to answer questions! During the summer, Ms. Koski is on campus 8:30 AM - 2:30 PM preparing books for the new school year. Please contact
Ms. Koski
with any questions about textbooks, student-issued iPads, or textbooks.
---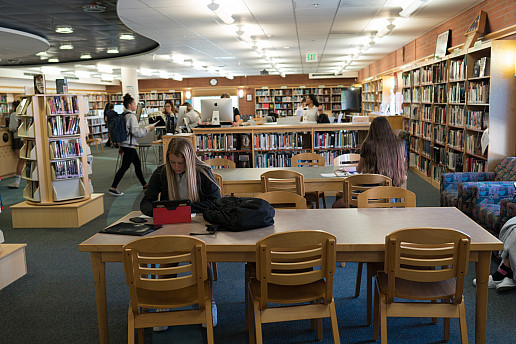 The Library contains over 10,000 print resources and access to a variety of electronic databases 24/7. These databases produced by ABC-CLIO, Gale & NewsBank support our curriculum with coverage in all academic subjects with a strong emphasis on religion and social studies. We also have access to over 250 electronic reference books from ABC-CLIO, EBSCO, Gale, Oxford & Salem Press.
Targeted resource guides have been produced for all academic departments to aid teachers and students in completing research assignments.
Our library provides a learning commons with study space for individuals and groups, student tutoring as well as the ability to interact with our professional librarians. Students can also take advantage of recreational reading materials including access to OverDrive, one of the largest digital book lenders.