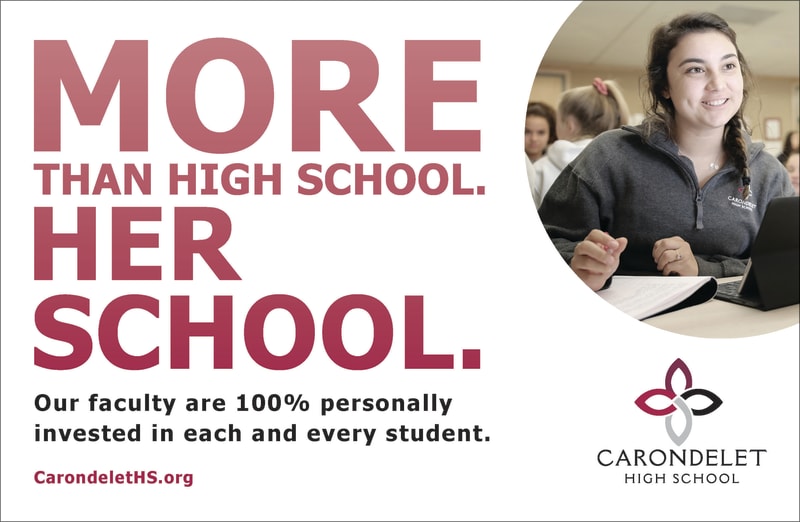 Carondelet is more than high school.
Carondelet is more than a gateway to college and a successful career. It's a place where leaders are formed, character is built and life-long relationships are cultivated.
Our 9-acre main campus, which spans Concord and Walnut Creek, was voted one of the most attractive school campuses in the state, offering a new STEM Innovation Center, community gathering spaces and labs with cutting edge technology.
Our new 6-acre Carondelet Athletics Complex gives our athletes the state-of-the-art facilities they need to reach their full potential.
Find out why Carondelet is more than a high school, by attending one of our Admissions events this fall.
► Full Calendar of events and deadlines
Shadow Visits
Tuesdays, Oct. 1, 8, 22, 29; Nov. 5, 12, 19
8th-grade girls
Shadow guests will be paired with a current 9th grade student and accompany her to classes and school events for the day. This allows prospective students to experience the Carondelet spirit we feel everyday!
RSVPs open Sept. 1
Information Night
Wed. October 16 / 6:30 p.m.
6th-8th grade students and families
Hear the top topics on how to prepare your daughter for the competitive high school admissions process. Learn about our unique curriculum, tuition assistance, acclaimed Athletics program, and personalized college counseling program.

Open House
Sun. November 17 / 1:00 - 3:00 p.m.
6th-8th grade students and families
Experience what our special community is all about! Visit classrooms, meet our inspired teachers, talk with our enthusiastic students, and learn more about our school from dedicated staff and administration.
HSPT Prep Course
Sat. December 14 - 9:00 a.m. in the Garaventa Center
8th-grade girls and boys
This 3-hour workshop focuses on HSPT tips and test-taking strategies, in partnership with East Bay Prep test preparation center of Concord. Open to any 8th-grade girls and boys who are prospective Catholic high school students.
Dear Parents / Guardians and Students,
I am pleased you are interested in Carondelet for your daughter's high school education. Carondelet is a very special place, offering young women a transformative educational experience in an encouraging, supportive, and compassionate environment.
Since its founding in 1965 by the Sisters of St. Joseph, Carondelet has lived out its mission to provide young women with a program of academic excellence that embraces each student's unique gifts, builds confidence, and calls our young women to live with heart, faith, courage, and excellence. The success of this approach is evident in the school's strong college placement record and in our impressive alumnae who are making a positive difference in the world.
Carondelet is a Catholic school that is open and welcoming to all faiths and religious beliefs. We provide a values-based learning environment that is different from non-sectarian private schools and public schools as it provides our students with deeper opportunity to know themselves and discover their purpose.
We know a great experience at Carondelet is the result of an effective partnership between our school and families who, together, share in the commitment to and investment in all that Carondelet has to offer that includes the recently opened Carondelet Athletics Complex and the beginning of construction of our STEM Innovation Center.
Please review the curriculum and learning opportunities, not only for ninth grade but also across all other grades as you begin to think about potential colleges and career paths. Our emphasis on providing students with multiple outstanding college-prep opportunities through our Advanced Placement classes, ACT and SAT test prep, Early College Credit classes, and a variety of blended and team-taught courses set our graduates apart.
Our innovative curriculum creates a learning environment that helps students acquire the skills they will need in their ever-changing future. In our classes, students actively use creativity, collaboration, communication, and critical thinking skills that are vital to their future success – much of which is achieved through active partnerships with universities like UC Berkeley, Carnegie-Mellon, and Stanford. We also offer comprehensive academic and support services to enable success for all students.
Thank you again for your interest in our school. I look forward to meeting you!
Sincerely,
Mr. Kevin Cushing
Principal
Transfer Applications open
Students interested in transferring into Carondelet can contact Jessica Mix to review the process and timeline, jmix@carondeleths.org.