As a donor, your support is vital to foundational work at Carondelet.
Through your gifts, you fuel innovation, jumpstart bold ideas, and empower our students to succeed. Your thoughtful investment impacts the people, spaces, and programs that make Carondelet a dynamic and inventive place for students and faculty to discover, explore, grow, and learn.
Thank you for your commitment to our school.
All of our donors are recognized in the Donor Roll.
Stories

The $4,000 per year scholarship supports underrepresented students who are interested in healthcare.
Read the full story

When girls participate in sports they develop confidence, leadership qualities, and expand their horizons. At Carondelet, that's further supported where they are celebrated by their peers.
Read the full story
More stories
Financial Annual Report
Another extraordinary year was made possible, again, by the dedicated partnership of our community. Carondelet met its students where they were—online, hybrid, and in-person—and not only maintained our connections, but added layers. Despite enormous challenges and persistent unknowns, our students became resilient, informed, empathetic leaders who embraced change and operated with heart, faith, courage, and excellence.
Carondelet returned to in-person learning with competence and confidence, well before its peer institutions. We integrated successful technologies and methodologies from our virtual experience into our new normal, and we redefined our concept of the classroom to meet student needs. Your generosity enabled us to enhance our financial aid and tuition assistance offerings, leveling the playing field for all young women at Carondelet. And because of your investments, our Student Life, Educational Support, College and Career, and Student Wellness teams continue to provide essential resources for students' academic, spiritual, and social-emotional journeys. These are just a handful of the countless resources—staff, classes, programs, supplies, and initiatives—that we provide thanks to you.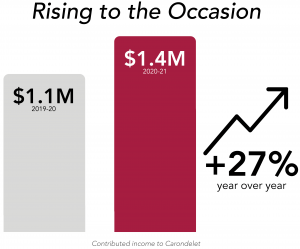 Your philanthropic support, volunteer efforts, and engagement with school life during the 2020-2021 year helped raise $1.4M in contributed income, a 27% increase from $1.1M the previous year. Creative fundraising efforts drove this increase—virtual events, annual sponsorship opportunities, and targeted initiatives—as well as this community's responsiveness to the unique challenges of operating within the context of a sustained global pandemic. Our supporters rose to the occasion to keep Carondelet on the cutting edge of whole-person secondary education and used philanthropy to maintain the exceptional experience our students and their families expect and deserve.

This level of contributed income speaks to the collective vote of confidence our community has in our mission and vision. Our fundraising challenges continue to grow, and we consistently must do more with less. More tax-deductible support is needed today to maintain the programs we have, and more is needed to preserve the ambitious trajectory we have established on behalf of our students. We are roughly 90% reliant on tuition income and depend on your continued investment to close this gap each year. Our generous community of donors helps address this shortfall with philanthropic contributions in lieu of tuition increases.
The impact of your giving is demonstrated each day through a variety of experiences and accomplishments. There are many examples that showcase our achievements this past academic year. It's far from an exhaustive list, as there are simply too many things that happen during the course of a year to highlight everything. We are proud of our students, faculty, staff, parents, alumnae, and alumnae parents and humbled to share the following summary.
Financial Aid
Approximately 41% of Carondelet students receive financial aid, including $1.35 million in need-based grants and $350,000 in merit awards.
Academics
Our esteemed faculty continue to create innovative, interdisciplinary programs that differentiate our graduates from all other high school students. As a college preparatory school, we prepare students for a traditional learning environment where standardized test scores and AP classes are critical to the college admissions process, and we offer real-world experiences and critical thinking skills that transcend secondary education.
Average class size: 24
15:1 student to faculty ratio

100% of graduates attend college

The average AP test score was 2.3% above the national average for all the AP tests taken by Carondelet students combined

Standardized test scores were significantly higher than the national average across the board on both the SAT (9.8% higher) and ACT (34.1% higher)

SAT - 7.1% higher in Math

SAT - 12.2% higher in English

ACT - 41.5% higher in English

ACT - 26.2% higher in Math

ACT - 32.1% higher in Reading

ACT - 27.7% higher in Science
Carondelet offers no-cost college credit opportunities through our Early College Credit program. Students earn transferable college credits that enhance their college applications and save money when they go on to university. More than 600 Carondelet students have earned credit through this program over the past five years. Using the average cost of the colleges our students attend, they have saved approximately $936,000 in unit cost over that time period.
Our college and career counselors provide a comprehensive four-year approach to mastering the admissions process, including financial aid. Last year we heard from 143 of our graduating students, and they received an estimated $21.76 million in scholarship awards from the institutions of their choice for the duration of their enrollment.
Athletics
Approximately 68% or 546 students participated in Cougar athletics during the 2020-2021 year.
Across all sports, Carondelet had 17 First Team athletes, 16 Second Team athletes, and 16 Honorable Mentions in the EBAL All-League Selections 2020-2021.
NCS Scholastic program honors. All Varsity Carondelet Sports earned a GPA of 3.4 and above (Including Club Sports)
Basketball 3.4

Cross Country 3.9

Dance 3.8

Diving 3.4

Golf 4.0

Lacrosse 3.8

Rugby 3.8

Sideline Cheer 3.8

Soccer 3.9

Softball 3.8

Stunt 3.4

Swimming 3.8

Tennis 3.7

Track and Field 3.4

Volleyball 3.6

Water Polo 3.9
Student Life
As Carondelet returned to campus, our focus was on providing in-person opportunities for students to have fun together, bond, and socialize via class-specific Spotlight programming during our Flex Wednesdays. We also offered virtual opportunities for students to meet in clubs, exploratories, and other special interests.
In lieu of traveling with students for immersion trips, we held a virtual immersion by participating in the Ignatian Family Teach In's virtual conference. A group of students gathered regularly for four weeks to learn, pray, and advocate for change in the world. Areas of focus were migration, ecology, and racial justice. Carondelet's advanced and integrated use of technology helped make this possible.
Frosh Day of Service was virtual, and students met in small groups on Zoom with teachers to learn the basics of our CSJ tradition of serving the dear neighbor— they participated in a virtual simulation, dialogued, and prayed together. Virtual simulation, SPENT, helped students experience what it's like to navigate life as a low-income person experiencing food and shelter insecurity.
We celebrated virtual and hybrid liturgies. Some were completely virtual with interactive elements through Mentimeter, Pear Deck, and Zoom. For hybrid liturgies, student leaders led liturgy in the Inner Court while live-streaming to various locations, allowing students to participate in smaller numbers. Additional media/film equipment procured by Student Life, training from our IT department, and support from our MarCom team made this new way of worshiping together possible.
A professional media company produced and live-streamed our Baccalaureate Mass in May. This allowed seniors to gather in person before Graduation and allowed endless friends and family to tune in and pray with our soon-to-be graduates.
Campus Ministry reimagined Kairos to create a healthy and safe senior retreat experience. The Jean Hofmann Center for Innovation made the first day of the retreat possible with its open design and media wall. A pastoral performance artist commissioned by the CSJ Institute performed a Mother St. John Fontbonne monologue and led a discussion with our seniors.
In partnership with De La Salle, we offered the graduating class a senior celebration as a COVID safe replacement for Senior Ball. We celebrated the Class of 2021's accomplishments at a special evening Senior Awards Dinner after an in-person Baccalaureate. Finally, we shifted to an in-person graduation ceremony at the Concord Pavilion where seniors celebrated with their families safely in a beautiful setting.
Donor Honor Roll
Our online lists include all donors whose gifts made a meaningful difference for Carondelet's students, faculty, and community from July 1, 2020 to June 30, 2021.