For the first time ever, not one but two Carondelet students will be "causing treble" in the California All-State Choir Ensemble. This highest honor is awarded to students from across the state to sing in select choirs under the direction of nationally and internationally known conductors.
Seniors Catherine DeVincenzi '21 and Julianna Giammona '21 are both in all-female choirs and will start rehearsal on January 30. They will get the opportunity to delve into both ensemble and combined pieces.
All-State Choir students participate in 75-minute video conference calls with their ensemble director to rehearse and delve into their pieces. "Just from learning the pieces we have been given, I can already see a lot of personal growth," said singer/songwriter Julianna Giammona. "I'm excited to be practicing skills I'll need to sing in college—learning quickly and independently."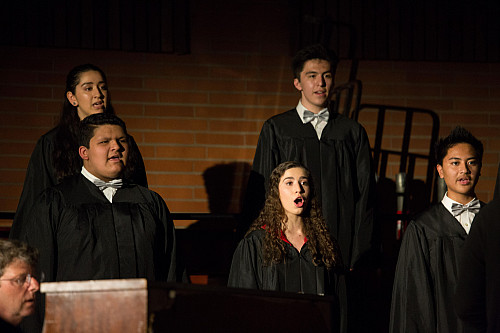 Catherine DeVincenzi '21 has been accepted to the California All-State Choir Ensemble.Because the performance cannot be live this year, choir members will record their singing from home and their videos will be compiled into a virtual performance. Giammona explained that, while one of the things she loves most about music is the thrill she gets from performance, performing from home has helped her build confidence. "I normally get very nervous before a performance, but all the nerves go away once I'm singing," she said. "I thought that was because of the stage or being in front of a crowd, but I realize it's just the adrenaline because I still get those little nerves even now before I sing to my computer."
Catherine DeVincenzi also misses singing live, "For me, performing and singing is all about making connections with others," she said. "It's almost like meeting a room full of people when I perform, and I miss the thrill of reaching out to others through song in person." However, she's looking forward to honing her self-recording skills and being able to learn pieces independently as she looks forward to majoring in Musical Theatre. Her dream is to perform on Broadway. "I never want to be doing anything else," she said. "I couldn't imagine not being a performer."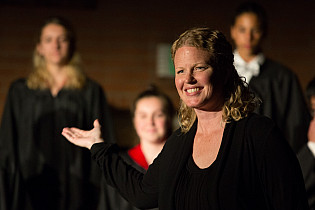 Both students have been coached by Choir Director and Visual and Performing Arts teacher, Amy Way for the past four years, when they made an immediate impression. "Both of these students have been on my radar since their freshman year," said Way.
"They have demonstrated that this is a passion, it's a huge part of their lives. I felt like I knew that freshman year and it's been amazing to see what steps they have taken to ensure they will be successful at the college level. I'm just really proud and excited."
The virtual performances will be released in late April and available to view on this webpage.
---
Julianna Giammona '21 and Catherine DeVincenzi '21 perform "O Holy Night" for the virtual Visions of Christmas celebration, which premiered November 14, 2020.