One of the things that sets Carondelet apart from other Bay Area schools is our extracurricular programming and student life activities. Nearly all of these programs and activities come at an extra cost.
We never want club membership, or a varsity sweatshirt, or junior prom to be cost prohibitive. These are important - often peak - experiences for our students. Historically, we have made unofficial financial accommodations for things like t-shirts and dances. Now is the time to create a robust program, process and funding stream to ensure that all of our students can access the full richness of the Carondelet experience.
The new Sisterhood Fund will bridge the financial gap between tuition and extracurricular activities, allowing all students to fully experience the sisterhood.
The goal is to offer funding assistance for school dances and events; spiritwear and athletic gear; junior rings; club participation, athletics or campus ministry immersions; and important basics like food from the Garaventa Cafe, school uniforms, and school supplies.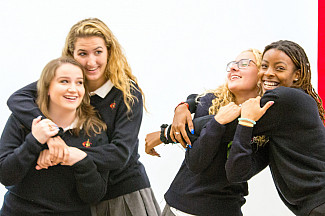 We will be working with Admissions and Finance to create a preliminary needs-based list as well as using a "boots on the ground" group of coaches, campus ministers, and counselors to identify students who may need extra financial support.
We will be deliberate, skillful and discreet as we advertise and promote this new program and aspire to have a lasting impact on not only the over 25% of students who are on financial assistance, but on those families who make daily sacrifices to pay the full price, and on our entire community who lives out service of the dear neighbor without distinction.