CONCORD, CA, Embargoed until November 8, 2023 at noon PST—Carondelet High School announced that nine Cougar student-athletes signed National Letters of Intent today.
Victoria Alessandrini is continuing her soccer career at Pepperdine University as a Wave. Victoria's honors include Elite Club National League (ECNL) Northern California All-Conference first team, captain of the Mustang ECNLs for three years, EBAL honorable mention and EBAL second team, varsity soccer team since freshman year, NorCal State PDP team, NCS back to back champions, and winning EBAL twice with Carondelet. Victoria chose Pepperdine because of the great academics, competitive D1 soccer, beautiful campus and location, and the awesome coaches. Congratulations Victoria and go Waves!
Chloe Casselman chose Loyola Marymount University to continue her soccer career as a Lion. Chloe has been a four year varsity student-athlete, was on the EBAL All-first team, and was named Defensive MVP. She chose Loyola Marymount because of their strong commitment to academic excellence and the beautiful and vibrant campus in Los Angeles. LMU offered her an opportunity that she believes will help her grow academically, physically, and personally for the next four years of her life. Congratulations Chloe and go Lions!
Madelynn Gomez will continue her swimming career at Stonehill College as a Skyhawk. Madelynn is a nationally ranked swimmer and an NCS finalist. She chose Stonehill for the amazing academic program as well as the welcoming team and beautiful location in Massachusetts. Congratulations Madelynn and go Skyhawks!
Bailey Hartman chose to continue her swimming career at the University of Virginia as a Cavalier. Bailey's accolades include being part of the USA National Junior team for 18 years and under, finishing 1st at NCS for the 500 free and the 100 free, placing 4th in the 100 fly at Junior Worlds in Israel this past year, ranking 1st for the 2024 recruiting class in California, and swimming the Olympic trials in the 100, 200, 400 free, and the 100 and 200 fly. Bailey enjoys UVA's beautiful campus. The team culture is amazing, and she felt very welcomed at UVA. Congratulations Bailey and go Cavaliers!
Anna Mollahan is continuing her lacrosse career at Tufts University as a Jumbo. Anna's honors include team captain junior year, second team all league sophomore and junior year, MVP junior year, and the Cougar Award and honorable mention all league her freshman year. Anna chose to commit to Tufts because of the strong competitive Lacrosse team, the coaching staff, the top-notch facilities, and most importantly the team's culture. The immediate connection she had with the players was an instant draw towards her love for Tufts. Congratulations Anna and go Jumbos!
Madison O'Connell will continue her swimming career at the University of California, San Diego as a Triton. Madison is a four year varsity student-athlete and has attended State two years in a row. She chose UCSD because she loves the campus, the education, and the team. Congratulations Madison and go Tritons!
Abby Roder chose to continue her water polo career at the University of California, Berkeley as a Bear. Abby's honors include team captain, MVP, EBAL first team, Academic All American, and a scholar athlete. She is excited to continue her academic and athletic career at Berkeley, and she chose Cal because it offers both an outstanding education and water polo program. The amazing coaches and team made her decision to attend Cal an easy one. Congratulations Abby and go Bears!
Brynn Tully is continuing her water polo career at the University of California, Santa Barbara as a Gaucho. Brynn is a four year varsity water polo starter, team captain, EBAL honorable mention, EBAL second team, and four year Academic All American. She helped lead her water polo team to the CIF State Championship, and helped win Carondelet's first ever water polo NCS title. She is also a multiple time NCS swimming qualifier. Brynn chose UCSB for the high ranking academics and athletics, and she felt "at home" when she met the water polo coach and team. She has always loved the beach so she felt a sense of belonging at Santa Barbara. Congratulations Brynn and go Gauchos!
Keshia Vitalicio will continue her basketball career at Lehigh University as a Mountain Hawk. Keshia's accolades include team captain, EBAL first team, and a 4.0 GPA. Keshia chose Lehigh because she felt the school was a great fit for her, and will provide the perfect balance of academics and athletics. From the day she first visited the school, she immediately knew it was a special place with great people and community. She also immediately connected with the coaching staff and felt she could trust them with her basketball career. Keshia believes the school will support her passions, on and off the court, and will prepare her for the future. Congratulations Keshia and go Mountain Hawks!
Associate Director of Athletics, Cat Arroyo said, "I have seen these stellar student-athletes grow in their athletic ability, leadership, and as young women full of heart, faith, courage, and excellence. They have represented the Carondelet community well these past four years, and we know that each of them will continue to excel both athletically and academically at their chosen college."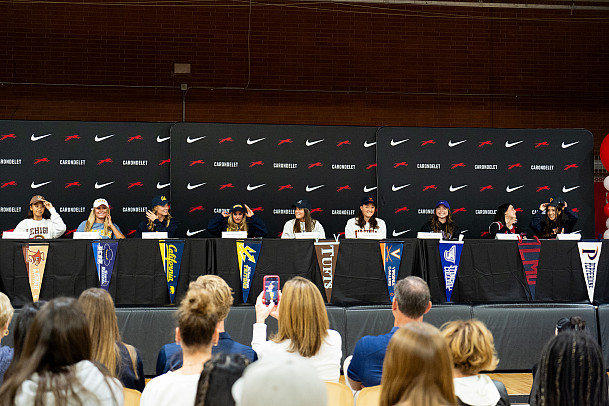 ###
Carondelet Athletics sponsors 36 teams, 18 sports, 475+ student-athletes with an average GPA of 3.67, and one Cougar Nation! In Carondelet's 58 years, the school has won 143 League Championships, 63 NCS Team Championships, 15 National Cheer and Dance Championships, Seven Northern California Team Championships, Three State Team Championships, Three Individual State Championships, Two National Team Championships, and One Individual National Championship. The high school offers a unique athletics experience where students enjoy the opportunity to develop athletic abilities concurrently with the development of the highest standards of scholarship, leadership, sportsmanship, school tradition, and spirit.
Carondelet is a Catholic college-prep high school in the East Bay that offers young women a transformative educational experience. Since its founding in 1965, Carondelet has combined academic excellence and a recognition of the unique gifts of each of its students. The school's focus is a woman-centered, comprehensive educational program designed to help young women build confidence and prepare for leadership and service in the 21st century.