On the surface, Natalie A. '24 seems like your average student-athlete. She is the two-time Co-captain of the Carondelet Swim Team and belongs to the Orinda Aquatics year-round swim team. And when she isn't in the pool, she serves as a member of the National Honor Society and the California Scholarship Federation.
In August, Natalie and her father embarked on a trip to Liberia, West Africa to teach 24 girls how to swim. Through her remarkable journey, she has made a significant impact on the lives of students in Liberia, leaving an indelible mark on the world.
Natalie's journey to Liberia began with a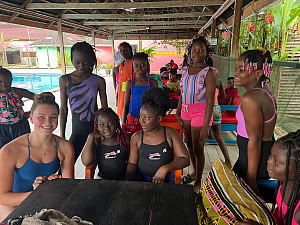 chance encounter. Her brother's former soccer coach connected Natalie and her father with Ollie White, the founder of Beautiful Beginnings School in Liberia. The Beautiful Beginnings School is a Christian-based primary school located in Harbel, Liberia (about an hour and 75 minutes south of the capital, Monrovia). Soon after that, Natalie's father took soccer donations that they had gathered this past January to Liberia in support of Soccer Surge, a soccer-related nonprofit that helps engage young Liberian children in soccer. During his visit, he learned about the tragic drowning of a student during the Christmas holidays. In memory of the child, Natalie and her family organized a swimming clinic for the students.
The WHO (World Health Organization) listed Africa as the region with the highest rate of drowning in the world. The students Natalie and her father worked with had never been in a pool or knew how to swim. But before they could fly over and teach, first, the students needed swimsuits.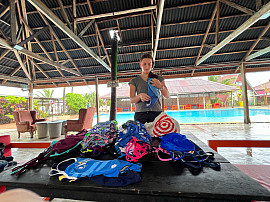 "I reached out to everyone I knew who might be able to help. Roque Santos, my Carondelet swim coach, generously provided a number of brand-new Carondelet swimsuits. My former swim coach at Sleepy Hollow, Matt Ehrenberger, sent out a note to the team representatives at the nine OMPA pools in Orinda and Moraga. I also reached out to the Elsmore Swim Shop who generously provided suits. And of course, my Orinda Aquatics friends supported the effort with donations."
In a tidal wave of support, Natalie was able to gather 119 swimsuits for the girls at the Beautiful Beginnings School.
Natalie and her father's journey to Liberia, however, was not without its challenges.

"It was difficult to get to Liberia—we
were two days late showing up. Our first flight was delayed from SFO so we missed our Newark and Brussels connections—and there is only one flight that goes into Liberia from Europe every other day. The girls had to stay together at the Monrovia school location for two extra days to accommodate our travel delays… When we finally met the girls, they were full of energy and very excited to meet me. Many of the girls were very fearful of the water, but they were courageous. I hope they are able to continue with their swimming as they are talented. "
Many Liberian kids stop attending school after 5th grade to start earning money. Encouraging Liberian youth to stay in school and continue their education is a focus of many nonprofits. It was the goal of Ollie and Natalie to instill the importance of education. Natalie acted as a role model, helping the students see a different future by staying in school.
"Service is a part of Carondelet's mission. As part of my activities, I tutor fellow students, I have worked at White Pony, and other area service organizations. I helped my family with a drive to gather donations for Afghan refugees and for my father's first trip to Liberia."
Throughout this experience, Natalie gained a profound appreciation for the joy of helping others.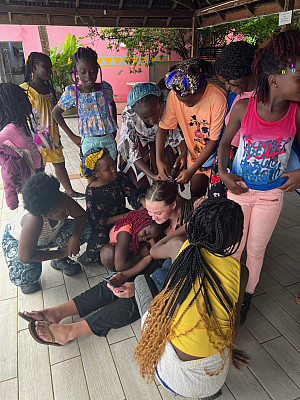 "It's very rewarding to see how much the girls accomplished in such a short time. Twenty-four girls is a lot of kids to coach, but they were such enthusiastic learners which made my job doable and rewarding. My father had tears in his eyes at the end of the clinic witnessing the sheer joy and happiness of the girls swimming. I felt very joyful too, knowing that I helped these girls build their self-esteem and realize they can accomplish so much—even though they were initially fearful. That is a life skill."
Natalie has accomplished a lot, but her journey is far from over. She plans to return to Liberia. " I plan to go back to Liberia soon, but scale the impact by bringing more instructors and teaching more students." To be able to bring more instructors, her father is working on creating a nonprofit organization to raise funds and receive grants. Her dream is to provide swim lessons to more Liberians and continue supporting Beautiful Beginnings School with technology mentorship programs.
"I would like to have a Chromebook/iPad drive at Carondelet. We brought six Chromebooks and iPads for the school in August and my father brought ten in January. There are almost 500 students at Beautiful Beginnings School, so we need to acquire many more. We found out that very few students had ever accessed the internet since they didn't have devices. I would also like to explore the idea of a sister school mentor program between Beautiful Beginnings School and Carondelet. As an example, students at Carondelet could have Zoom calls with students and teachers at Beautiful Beginnings School and teach them how to use technology."

For those inspired by Natalie's story and eager to make a difference, she encourages them to take action!" …it is one of the most rewarding experiences that I have ever had, so I would highly encourage anyone to get involved in something like this." Her vision includes Carondelet students serving as mentors to Liberian students, bridging gaps and inspiring change.
At the heart of our CSJ values, Natalie A. '24 stands as a shining example of a student who uses her passion, dedication, and privilege to create waves of positive change across continents and for our dear neighbor. Her journey is a testament to the transformative power of service, kindness, and the belief that one person can make a world of difference.
To watch a video of Natalie's journey,
click here
.