Earlier this month student Anna M. '24 partnered up with Grateful Gatherings, a community of volunteers, donors, and partners who help furnish homes for families experiencing homelessness or crisis. The volunteer team gathered new and used items to furnish the family-in-need's home.
"[Grateful Gatherings] have helped hundreds of families get back on their feet and my entire family tries to help wherever possible. Being a part of the Hearts for Homeless club gave me a chance to share this great charity with other people. We send out a sign-up to our group that includes all of the items that are needed and people sign up on that and drop the items off. Chipman moving company has generously donated to Grateful Gatherings a moving truck and moving personnel for all of the gatherings that they host. So on the morning of the event, Chipman comes to houses that have furniture to donate and picks it up as well as all of the other supplies. The volunteers meet the truck at the family's apartment and we get to work hanging curtain rods and setting up beds and organizing, kitchens and furniture. Then the family returns at the end of a day of hard work, and we all celebrate with them briefly before leaving them to begin their new lives."
Anna has been working with Grateful Gatherings since the very beginning, volunteering to help the first family in need that the organization worked with. This time, Carondelet/De La Salle's Hearts for Homeless worked together to prepare a home for a family of 3. Our student volunteers built furniture, made beds, and set up the family's new kitchen.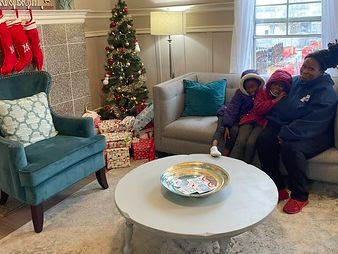 "If you ask anyone that was there on the day of they will say it was probably one of the most special experiences they have had volunteering. It is hard work and takes a lot of effort and sometimes you end up doing things you really don't like doing such as scrubbing a bathroom. But when the family comes back in and sees their place, which was almost empty turned into a beautiful home you know it was all worth it. You realize that they just need some love and support to be able to have hope for a bright future. You leave knowing you really made a difference in someone's life and you want to do it again." - Anna M. '24
If you'd like to volunteer or donate to Grateful Gatherings you can sign up for their newsletter or send them an email. To read more about the family and how Hearts for Homeless helped click here.