Mariella C. is a junior here at Carondelet. She runs the Cougar Tales Club, works with freshmen as a Peer Counselor, is the media producer for the Winton Film Festival, and is part of the Varsity Tennis team, First Gen Club, the CSF, and NHS. She also finds time to work with Girls Garage, located in Berkeley California.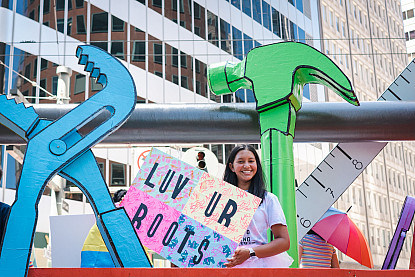 Girls Garage is a nonprofit design and construction organization for girls and other gender-expansive youth. The 3,600 sqft workshop provides free and low-cost programs in carpentry, welding, architecture, engineering, and activist art to a diverse community of 300 students per year.
"I actually learned about Girls Garage through Carondelet's list of summer programs. I started working with them in the summer of 2022 when I was 16. I completed the Young Women's Design and Building Institute which was an immersive week-long design/build experience. I was then encouraged to apply to one of the after-school programs starting in Winter 2023, and I was accepted to the Construction + Community cohort where only 12 students are accepted."
Girls Garage addresses the problem of the underrepresentation of women in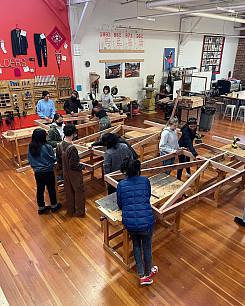 STEM and building trades by inviting their students to bring their voices and technical skills to the real world through projects that affect their community. 
"At Girls Garage, they teach us how to use power tools correctly according to what our projects require. We always work together through every step of the process with a leader guiding us along the way. I love all the people that help run the program! I feel very comfortable and close to them now that I have worked on a few projects with the team."
Thus far, Girls Garage has built 171 projects that have benefitted domestic abuse shelters, community gardens, and organizations serving refugees, just to name a few. These programs are offered at no cost to the girls and their families.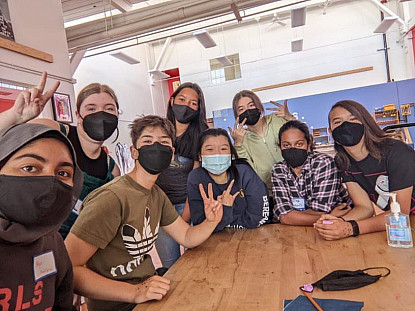 "Last October, I got to participate in a natural dye workshop with a few other girls. We used power tools to construct a sewing table for Latina elders of Arte de La Nueva Tercera Edad (ADELANTE) from Kern County, a textile art collective and activist group shedding light on environmental injustice in the Central Valley. During the summer, it was also fun learning block printing, risograph printing, and screen printing which resembles what they do in their protest and print programs. Out of everything I've done so far, my favorite memory so far has got to be going to San Francisco and riding in the Toolbox Float we built for San Francisco's 2022 Pride Parade. Showing off the float we built by hand was very rewarding in such a large city with thousands of people watching. This project also helped me build some amazing friendships with other peers across the Bay Area that I still am in touch with today. It was my first project with Girls Garage, but it really helped grow my love for architecture and engineering in a quick way."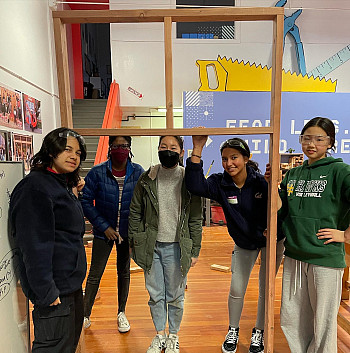 Through their time at Girls Garage, girls are encouraged to build a more equitable and inclusive future while challenging the expectations of what girls can do. 
"It is very exciting to work with Girls Garage! I love being a part of a hardworking, women's group that is not only using the skills they have learned but using those skills to teach youth like me while helping our greater community. Girls Garage has had an enormous impact on me by inspiring me to learn more and engage in a career in architecture or engineering while in college and further into my future. I have had great, useful hands-on experience and learned how to work with a team on projects bigger than just myself. I am grateful to Emily Pilloton-Lam, founder and executive director of Girls Garage, for creating a space where we can feel safe and be ourselves. She is caring, genuine, and a role model encouraging girls and gender-expansive youth to be creative and be confident to learn new skills."
If you'd like to get involved with Girls Garage sign up for their newsletters or follow their Instagram where they announce their new programs and projects.
"Girls Garage is a fun program for all girls and very easy to apply to! If you have a genuine curiosity to get to know more about the trades or want to be a part of a creative project, definitely apply, and experiencing the program will speak for itself! You are sure to learn something new and meet amazing people at the very least. Some programs are free, so take advantage of these opportunities that we have access to right in our reach."