On behalf of the Board of Trustees, we are excited to announce Jessica Mix '99 as our new President of Carondelet High School, effective March 1, 2023. Jessica has been serving in the role of Interim President since June 2022.
Jessica is a 1999 Carondelet alumna, received her Bachelor of Science in Human Development from UC Davis, Secondary Teaching Credential from Chapman, and is currently working on a Masters in Organizational Leadership from the University of Massachusetts. Jessica returned to Carondelet to coach the Dance Team in 2001 and began working as a faculty member in 2005 teaching math and science. Jessica began taking on leadership roles in Student Activities and as an Academic Advisor. She then became Assistant Principal of Student Life, and eventually moved on to the role of Director of Enrollment. Jessica is married and has two young daughters (future Cougars class of '32 and '37).
As previously communicated, we formally launched the President search last November. A Search Committee consisting of the following members was formed to oversee the President recruitment process:
Tom Bobich, Trustee, Parent '09 '13
Tom Olinger, Trustee – Vice Chair, Parent '19
Terri Porter, Trustee, Parent '04, Grandparent '22
Sonya Simril, Trustee
Jennifer Ghelfi–De Smedt 85', Trustee, Parent '22
Sr. Barbara Stowasser, CSJ Community
The Search Committee hired Morris & Berger, a national boutique executive search firm based in Los Angeles, specializing in the education and nonprofit sectors, to lead our President search. We interviewed several highly qualified candidates from across the United States. Jessica emerged as the clear choice among this very strong candidate pool. We are confident Jessica will foster a school environment embracing the philosophy and spirit of the Sisters of St. Joseph of Carondelet and provide the strategic vision to position Carondelet as a nationally recognized college preparatory school.
We would like to thank the Search Committee for the extensive amount of their time and effort involved with this search. We would also like to thank the faculty, staff, and Executive Leadership Team for staying focused on serving our students during the last eight months of leadership transition.
Carondelet continues to thrive, with dedicated and talented faculty, staff, and an executive leadership team focused on developing Carondelet's students to be leaders in both the classroom and the community. The Board is looking forward to Carondelet's continued growth and success under Jessica's leadership.
Sincerely,
Nancy O'Malley '71 and Tom Olinger, Parent '19
Chair, Board of Trustees and Vice Chair, Board of Trustees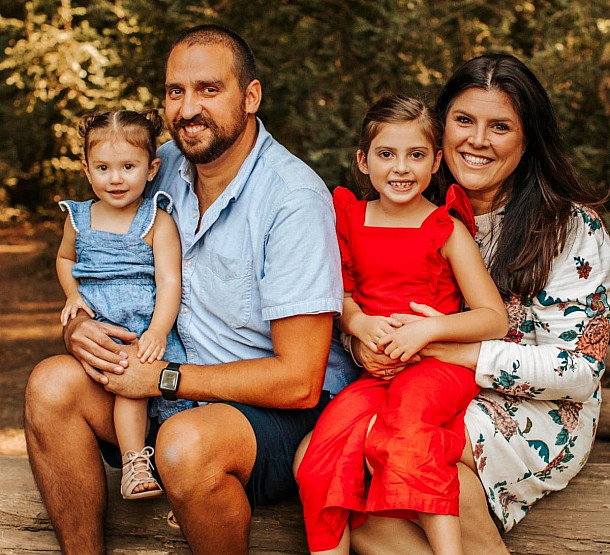 Jessica with her husband, Jerry, and their future '32 and '37 Cougars.
Carondelet High School is a Catholic, college-prep high school in the East Bay that offers young women a transformative educational experience. Since its founding in 1965, Carondelet has combined academic excellence and a recognition of the unique gifts of each of its students. The school's focus is a woman-centered, comprehensive educational program designed to help young women build confidence and prepare for leadership and service in the 21st century.