Vituity Cares is a charitable foundation focused on improving the health of underserved communities in the United States. The foundation works in and with local communities, and recently created a new scholarship for young women interested in healthcare careers and a Carondelet education.
This new scholarship will provide $4,000 per year to a minority or under-represented student who wants to attend Carondelet and demonstrates interest in the healthcare profession. This 2021-22 year, Vituity Cares awarded the inaugural scholarship to Imani McDonald '25.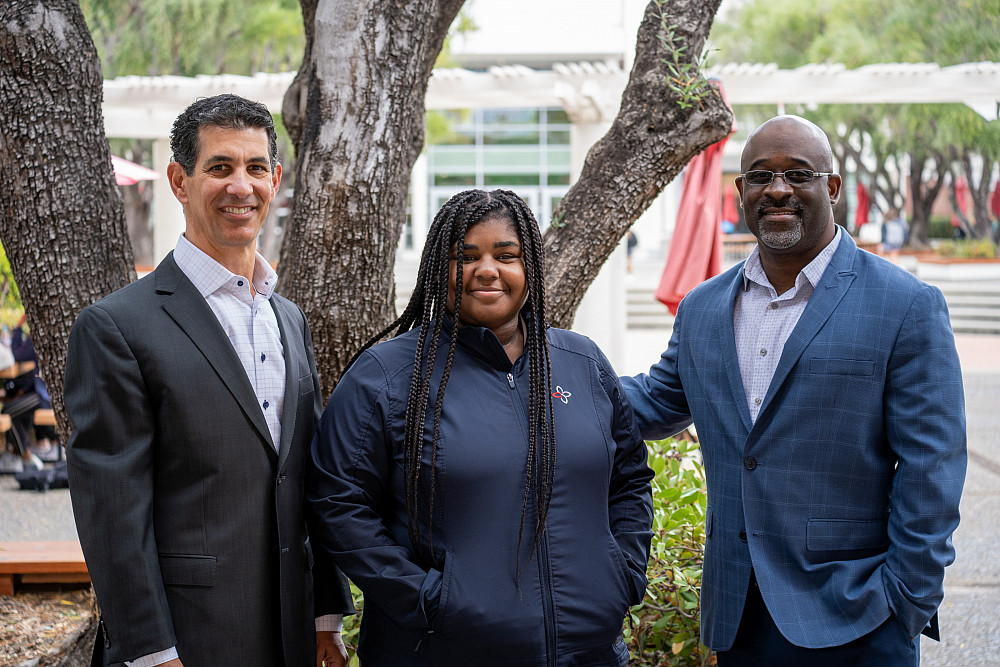 Theo Koury, MD P'18, Vice President, Vituity Cares Foundation; Imani McDonald '25; Imamu 'Mu' Tomlinson, MD, President, Vituity Cares Foundation
Theo Koury, MD P'18, a doctor at John Muir Medical Center and President of Vituity Cares Foundation, shares his passion for this new scholarship and the mission of the organization. "Our mission is to foster the next generation of healthcare professionals, particularly from under-represented ethnic groups. I know, personally, the superior education that Carondelet provides and, more importantly, the culture and mission of providing opportunities and support to young women through the charism of the Sisters of St. Joseph."
As medical and technological advances in healthcare usher in immeasurable gains to society on the whole, there are disturbing disparities between health and healthcare among individuals due to race, socioeconomic status, and other discriminatory factors.
Investing in scholarships like Vituity's at Carondelet has a multiplier effect that can't be overstated. If you're interested in supporting the Vituity Cares Scholarship, creating your own named scholarship fund, or supporting an existing scholarship at Carondelet, please reach out to Summer Staino, Executive Director of Development.
A nonprofit, public benefit corporation, Vituity Cares Foundation operates exclusively for charitable, scientific, literary, and educational purposes within the meaning of section 501(c)(3) of the Internal Revenue Code and is led by an independent Board of Directors. Learn more at www.vituitycares.org.