Giving balance to young women through opportunity and capacity building is fundamental. As our seniors prepare to graduate and go out into the world, we see first hand how opportunity, knowledge, and confidence cultivate dreams and change lives.
This is certainly the case with Niala Cole, a member of Carondelet's class of 2021. Thanks in part to the generosity of our community of donors, her future is bright and serves as an inspiration to her peers and members of our community alike.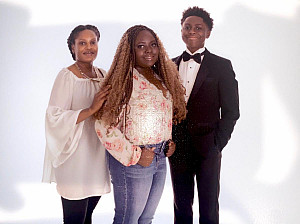 Fleeing war and unrest, Niala's mother Rosaline immigrated from Liberia to the United States where Niala was born. Niala's father died when she was very young, Rosaline underwent life-saving heart surgery, then slowly began to build a new life for herself and her family. Rosaline worked long hours to provide for her children, and sacrificed much to ensure they had a quality education. To their family's delight, Niala was accepted to Carondelet and awarded a scholarship to help pay for tuition.
Niala makes the long BART ride to and from school, working hard to excel academically, and grow spiritually and socially.
"I was able to persevere because my mom works so hard for me to go to school. I am very appreciative of the education that Carondelet provides. My mother has suffered my whole life to give me this opportunity. She doesn't want my brother and me to suffer the way she has."
Niala will be attending University of Redlands this fall. She aspires to become a pediatrician and return to Africa where her mother was raised to provide much needed healthcare to the community.
Niala's own life is a continuation of this virtuous cycle. She is giving the same balance through service that she received, guaranteeing that others maximize their potential and contribute to something bigger without obstacles or inequities.
We humbly and enthusiastically invite you to support our students' dreams and be a part of our efforts to discover, foster, and amplify their gifts. Please give balance through investment in students like Niala, and help the young women of Carondelet fulfill their tremendous promise.