On Friday, May 8 students from both sides of Winton Drive showed off incredible digital media they've worked on throughout the last year. From TikToks to feature films, digital drawings to photography, feats of both creative and technical skill had their moment to shine.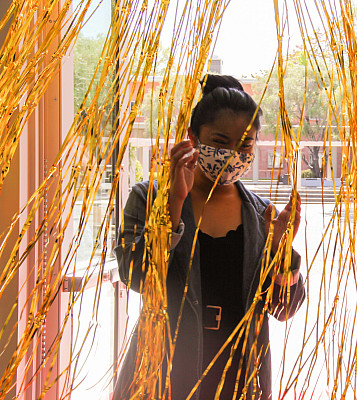 Student creators all expressed thanks for having an opportunity to showcase their work and for being pushed to submit. "I worked really hard on this," said Angelica Medina, winner in the digital art category, during her acceptance speech for her work in the Digital Art category. "I'm glad you liked it."
Each submission fell into five distinct categories: Music & Dancing, Digital Art, Short Film, Photography, and School Spirit.
The event was spearheaded by student media makers, and it included a special partnership with LunaFest—the world's first all-women traveling film festival. With this sponsorship, students saw a special screening of "Knocking Down the Fences," a short documentary starring the first woman to win a Rawlings Gold Glove, AJ Andrews.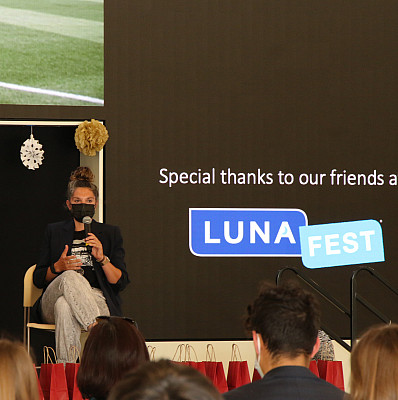 After the screening, filmmaker Meg Shutzer answered questions about her path in documentary filmmaking and talked about her project, and offered advice to the creators in the room.  "The film industry has been dominated by male directors and executives for a long time but the documentary community makes me hopeful about the future," She said, speaking to the up-and-coming creators in the room. "I've seen an awareness about identity and representation in this community that goes beyond gender."
Congratulations to all the winners and nominees, and thank you to all who submitted projects! See you at next year's Winton Arts Festival! Check out all the great submissions.
MUSIC & DANCING
Around the Bend by Clark Burnham*
Senior Year TikTok by Madison Wu
Senioritis (AP Prep) by vincent Castillo
Rollercoaster by Kailyn Fong
DIGITAL ART
Everyday by Angelica Medina*
Mr. Brokelhurst by Kaitlyn Yasumura
Imperfect by Angelica Medina
Alright! By Kate Concepcion
Frizz by Emma Shaughnessy
SHORT FILM
The Box by Alexis Lutterlee*
Out of the Ordinary by Diego Quadjovie
Family by Matthew Fong
The Letters by Anthony Brown
Songs Cut Short by Ellie Scheberies
PHOTOGRAPHY
Born on the Bayou by Megan Kavanagh*
Father and Daughter by Sarah Jennings
Station 5 by Mariella Cajina
Illumination by Aidan Noland
SCHOOL SPIRIT
CHS Hybrid Student Safety by Maddy Wilson
Who is a Woman Who Inspires you by CHS Soph Council
Women of Will by Margaret Gallagher
What is Carondelet R.I.S.E. Week? by Emma Shaughnessy