It's a labor of love. It has to be. After a full year of extensive research, students must have a real curiosity for their chosen topic, and that passion certainly shines for those students who will compete in the state's National History Day Competition this May.
For the past three years, Mr. Miller's AP US History classes have submitted and advanced to at least the State Level of the competition, and this year is no exception. This year, Alli Lowe made it to the finals with her research paper Communicating Against Conformity: The Grit of the Beat Generation.
"The National History Day project has been very challenging, rewarding, but most importantly, fun," said Paige Collier '22. She is creating a Wix site with her best friend about how sitcoms have impacted and changed culture. Specifically, she loved pursuing a topic she chose.
Juniors Nicole Abudayeh, Paige Collier, Alli Lowe, Chloë De Smedt, Islay Morrison Kristen Rizkalli, and Bella Roden all competed locally and made it to the upcoming state competition. Alli was a finalist in the state competition for her research paper, Communicating Against Conformity: The Grit of the Beat Generation.
Every year, students from all fifty states and territories and international schools in China, Korea, and South Asia submit extensive research projects to participate in National History Day (NHD). It's an innovative curriculum framework in which students participate in a rigorous year-long project researching and developing a historical topic of their own interest. Students then enter their product into the NHD local competition where their projects are judged and students are interviewed about their research process.
"My main advice for anyone interested is to make sure that the topic you choose can be expanded upon and is something that genuinely interests you," Paige Collier '22 said. "The project is not a short one."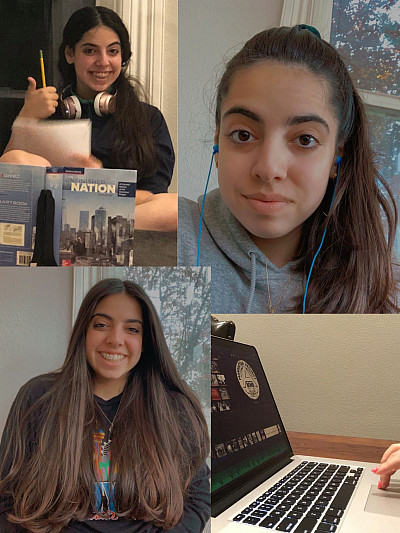 Kristen Rizkalli '22 works on her National History Project at its different stagesKristen Rizkali '22 is creating a documentary focused on the Manhattan Project. Over the past school year, she's conducted extensive research and explored primary sources including personal letters and archival footage. "My favorite part about this project was the research. Throughout the process of gathering all the necessary information to build my documentary, I learned so much," she said. "It made me feel more connected to all these events I'd been reading about."
Rizkalli explained that her biggest challenge has been synthesizing all the information into a film that's not only informative but engaging to watch. She is proud of the work and time that she put into this project and would recommend the experience to her peers. "Not only is it another opportunity to push yourself to dig deeper into topics you're passionate about, but the process in itself is rewarding," she said.
"I guarantee that when looking back on all the work that was put into it over the year, you will be extremely proud of yourself."
Students address a theme as they develop their thesis for the project. This year's theme is Communication in History: The Key to Understanding.
Samples of past award-winning Carondelet projects include the website, "The Invention of the Cotton Gin and its effects on Antebellum Southern Society," and the video documentary, "Road to Redemption: The Little Rock Nine."