CONCORD, CA, Nov. 12, 2020—Carondelet announced that six Cougar student-athletes have signed National Letters of Intent.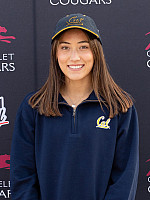 Jessica Davis has chosen University of California, Berkeley to continue her swimming career. Jessica has been an integral part of the Cougar swim team's success over the past four years. She is extremely proud to have been a part of the 2019 NCS team, which finished 3rd overall. It was all about the journey and fun along the way, which made this accomplishment memorable. Jessica chose Cal because of the phenomenal athletic and academic opportunities the university offers. The team is a group of hardworking, strong women and along with the atmosphere the coaches have created Jessica feels it will be an environment that will challenge her while bringing out the best in her. Congratulations Jessica and Go Bears!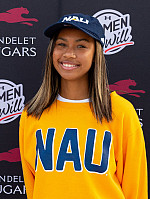 Hailey Fanner will be continuing her soccer career at Northern Arizona University. While at Carondelet, Hailey is proud of her many accomplishments both on the field and in the classroom, but winning NCS in 2019 and being the NorCal Regional Champions in 2020 are two that she will never forget. Hailey chose NAU because of its location, soccer program, and academics. She felt an instant connection with the team and the coaches. Hailey has always loved Arizona and how it feels a world away, but it is not too far from home. Congratulations Hailey and Go Lumberjacks!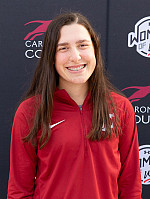 Madelyn Gamble will be moving to Pullman, Washington next fall to compete on the Washington State University golf team. Maddie has been the backbone of Carondelet's golf program the last four years with another signee, Madison Wu. Together they led the Cougars to a team appearance at State in the fall of 2019. Maddie was named one of the Top 10 NorCal High School Female Golfers of the Decade by SportStar Magazine. As a junior, Maddie finished in the top three at the state championship shooting a 73. She ultimately chose Washington State because it is the perfect combination of quality academics and athletics. Maddie believes WSU will help her achieve her goals and her potential both on the course and in the classroom. Congratulations Maddie and Go Cougs!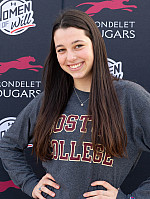 Julia Haggerty will continue her volleyball career at Boston College. Julia has been a member of the Varsity Cougar volleyball team since she was a freshman and has helped the team to many successes along the way. As a junior, Julia was the team's MVP and was also named to the EBAL All League First Team. Additionally, Julia is most proud that she and her Cougar teammates broke the all-time win record for Cougar volleyball that had stood for 15 years! Julia chose to be an Eagle because she absolutely loved the campus and the people she met there. She felt location, size, and the fact that she will be able to play in the highly acclaimed ACC Conference all made BC the perfect fit for her. Congratulations Julia and Go Eagles!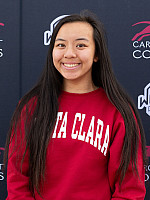 Madison Wu has committed to continue her golf career at Santa Clara University. Madison and Maddie Gamble have been the backbone of the Cougar golf program for the past four years. Madison is most proud of helping to lead the Carondelet team to State in 2019. During her time as a Cougar, Maddie made the EBAL All League team twice and was awarded the Carondelet Cougar Award twice as well. Maddie chose Santa Clara because it felt like home the minute she stepped on campus. The welcoming and loving atmosphere of the school reminded her of being at Carondelet. Congratulations Maddie and Go Broncos!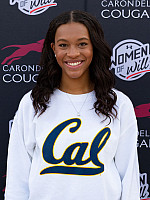 Jordyn Young will continue her soccer career at University of California, Berkeley, where both of her parents and many aunts and uncles have gone before her. You might say this has been her destiny all along. Jordyn has been an enormous part of Cougar soccer. During her time as a Cougar the team has had many successes, most notably winning NCS in 2019 and winning NorCal State in 2020. Jordyn is most proud of being able to share these successes with her teammates and sisters. She was named the NCS Sophomore and Junior of the Year, as well as, named to the EBAL All League and NCS First Teams both her sophomore and junior years. While Jordyn may have been destined to be a Bear, she went into the process with an open mind, but when she walked on campus and met the coaches and team—she knew Cal was where she was meant to continue her career. Congratulations Jordyn and Go Bears!
Watch video interviews with all six NLI signees.
Principal Kevin Cushing said, "Our Carondelet Athletics program provides a successful experience, not just in terms of wins and losses, but in providing a playing field for student- athletes to participate in a journey that allows for growth and development as part of a team, to become a better athlete and player in their specific sport, and to provide opportunity to compete at the collegiate level if that is a goal for our athletes. These six Cougar student-athletes have persevered with grace, courage, and resiliency during an uncertain time, and we can't wait to cheer them on at the collegiate level!"
###
Carondelet High School is an equity-focused, inclusive Catholic, college-prep high school in the East Bay that offers young women a transformative educational experience. Since its founding in 1965, Carondelet has combined academic excellence and a recognition of the unique gifts of each of its students. The school's focus is a woman-centered, comprehensive educational program designed to help young women build confidence and prepare for leadership and service in the 21st century.
Carondelet Athletics sponsors 36 teams in 18 sports and offers a unique high school athletics experience where our students enjoy the opportunity to develop athletic abilities concurrently with the development of the highest standards of scholarship, leadership, sportsmanship, and school tradition.