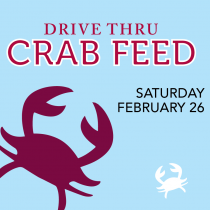 The Parents Association is pleased to provide this delicious dining opportunity in our second drive thru event.  All food orders will be available by takeout only with no in-person dining.
Meal pick-up will occur at Carondelet High School. All food will be prepared, packaged, and delivered to your car in strict compliance with all COVID-19 safety measures and guidelines. Bring your feast home for the family to enjoy!
Proceeds from this annual fundraiser will assist in funding various activities that support students and staff throughout the year.
We need your help to make this year's crab feed a success! Sign up to volunteer.
Menu and Ordering
$75 per person includes includes succulent crab, famous tri-tip, penne with marinara sauce, Caesar salad, and a dinner roll. You may place an order for tri-tip only. Orders for as many as 20 people. All meals will be packaged family style. 
All orders must be placed by Friday, Feb. 18. No drive-up/day-of orders will be taken.
Details
Order your meal at the bottom of this page starting Jan 16, choosing your 1-hour pick-up window.
Pick up your meal at Carondelet on February 26th during your selected time, with delivery to your car.
Enjoy in the comfort of your own home.
→ Crab Feed orders are open now. 
Thanks to our partner Fuget About It! catering.