When girls participate in sports, their lives are enhanced.
There is ample, well-documented evidence that girls benefit from participating in sports. According to research by the Women's Sports Foundation:
"Youth sports participation is linked to substantial physical, social-emotional, and achievement-related benefits. For girls in particular, research consistently demonstrates sports participation is linked to their improved physical and mental health; academic achievement; and increased levels of body esteem, confidence and mastery, with some indication that girls reap greater benefits from sports participation than do boys."
Yet, girls participate in sports at lower rates than boys at all ages. And girls get involved in sports later than boys and drop out earlier—a sad trend that crests around adolescence.
This backdrop is part of what makes Carondelet exceptional.
546 of our students participate in athletics. That's 68 percent! And they're doing it in an environment where they are lifted up and celebrated for all that they are.
Balance through Confidence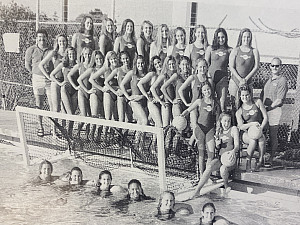 Julia Cesnik '98 looks fondly on her experience as a varsity water polo player. She'd played basketball and was a swimmer, but tried out for water polo her freshman year. She was new to the sport, but quickly found her place on the team and dreamed of playing in college. Julia discovered her individuality and identity through water polo.
"Being an athlete means you push yourself physically and mentally every day," Julia said. "The hard work you put into your sport makes your body stronger, but also builds confidence. If you can do what it takes to succeed in your sport, you can do what it takes to succeed in life.
"As a female athlete, you empower yourself to seize opportunities when they come your way and have the confidence to do so. Carondelet water polo taught me what I am capable of."
Balance through Leadership
Being a member of a team develops leadership qualities from a young age. Teammates learn to work together and adapt to different personalities and perspectives. They learn to speak and to listen. Female athletes translate these leadership qualities into the workplace, family, spiritual life, and personal achievement. Carondelet athletes inspire others with their experiences and enable them to set goals, have courage, and thrive.
Balance through Opportunity
Julia and her team raised the bar and pushed boundaries for the program. She was recruited to play at the University of California, Berkeley, was a member of the US National Team, and now plays for the Olympic Club in San Francisco.
Strong alumnae like Julia galvanize other women and girls to aim high and pursue their goals. Carondelet Athletics provide a powerful path to equality. It provides a platform for young women to showcase their strength, exercise their initiative, and harness their belief in themselves.
---
On behalf of Julia, and our entire community of athletes past and present—we invite you to make a gift today in support of their endeavors. Together we provide opportunities and programs that Give Balance to the young women in our community and impact their lives in immeasurable ways as they navigate life at Carondelet and beyond.