AAPI Heritage Month Video Series
Carondelet & De La Salle's Asian Pacific Islander (API) club will be sharing a video series. It is an opportunity for some of our API students and faculty/staff to share what their API heritage means to them and to educate our school communities on some of the issues that our API sisters and brothers are facing.
1. "What is AAPI?"
2. Two stories and exploring colorism 
The second video of our series highlights two of our community members' stories and explores the idea of colorism.
3. Microaggressions
Club-members dive into the meaning of "microagressions" and its place in our world, as well as highlight two more of our community members' stories!
4. Cultural Appropriation
5. Ethnocentrism
We celebrate two of our community members' stories and at the idea of Ethnocentrism, one of the lenses through which we sometimes look at the world.
6. Stop AAPI Hate
We explore the increase in discrimination over the last year and its correlation with the pandemic. We will also hear from two of our community members about their pride in their heritage as well as a message of hope from a De La Salle staff member.
Featured in the Jean Hofmann Center for Innovation
A prominent figure from the AAPI community will be presented on the media wall in the Innovation Center each hybrid day from May 3-18.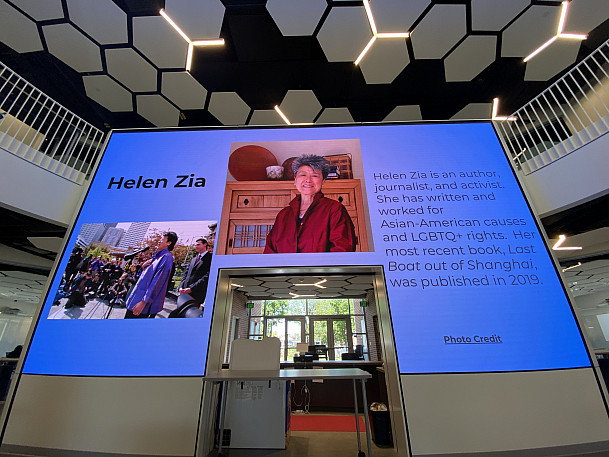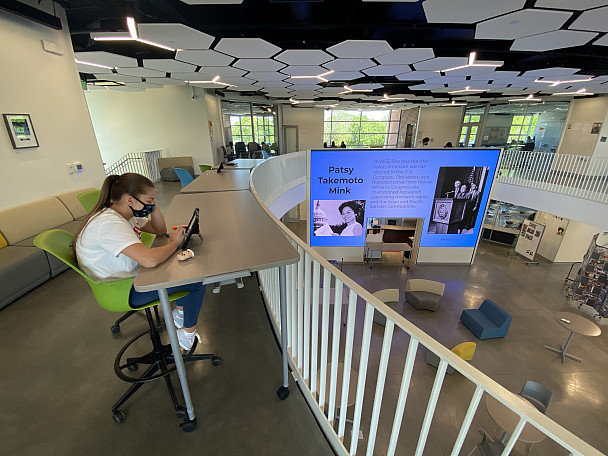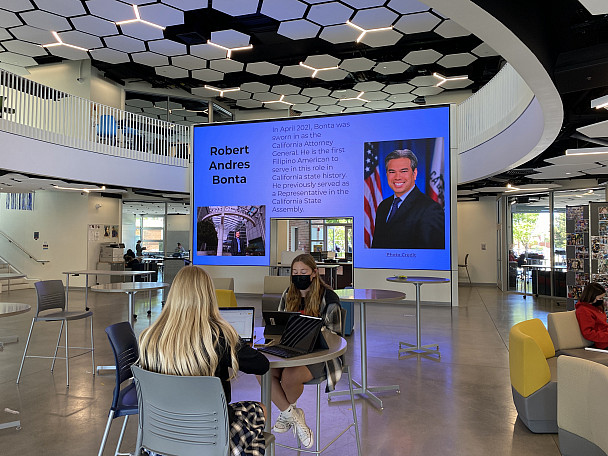 Daily Prayers and Announcements
Campus Minister Rick Grand-Lejano and students in Spiritual Life Council are preparing prayers for use in either all-school daily prayer, or individual classroom use. Prayers each day will focus on AAPI people and contributions to society. Below are a sampling of prayers. 
Prayer from May 5
Good Morning, Cougars.
Today our prayer calls us to stand with our AAPI sisters and brothers, especially in consideration of the violence that occurred yesterday in which two Asian women in their 60s and 80s were attacked in broad daylight in our backyard of San Francisco. We pray…
God Who Sees Us,
Let us all stand in solidarity with our AAPI
sisters and brothers during this challenging time.

You know the pain and fear they feel as this violence continues -
the fear that the next victim could be their mother or father,
their grandmother or grandfather,
or even themselves.
Allow us all to be instruments of your peace -
especially knowing that often our peers or colleagues
don't always verbalize this pain and fear
that they feel in the silence of their own hearts.
Let our presence and actions be a reminder of the comfort You provide.

Amen.
St. Joseph: Pray for us. God is my light.
Have a great morning and be love in someone's life today ❤️
Prayer from May 3
Good Morning, Cougars!
May 1st marked the beginning of Asian American and Pacific Islander Heritage month - a celebration of Asians and Pacific Islanders in the United States. Asian/Pacific encompasses all of the Asian continent and the Pacific islands of Melanesia, Micronesia, and Polynesia. During this first week of AAPI heritage month, we will have morning prayer focused on praying for peace in our communities. So we pray…
Loving Creator,
We pray for all people, especially Asian-Americans/Pacific Islanders.
Help us to keep an open mind and open ears as we learn
About the struggles of those voices who are often silenced.
Especially now, during this challenging time when so much
division and hate is directed towards our Asian-American/Pacific Islander Sisters and Brothers.
May each and every one of us be a source of healing.
Let us also celebrate the achievements and cultures of AAPI during this month
And recognize the richness in cultural diversity that ALL people bring to our communities both locally and to our country.
Amen.
St. Joseph: Pray for us. God is my light.
Have a great morning and be love in someone's life today ❤️
---
We invite you to learn more about the history of AAPI Heritage month.