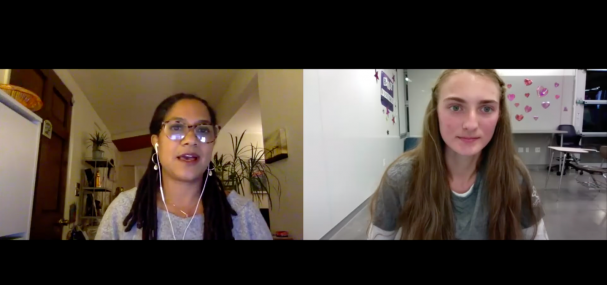 What do you typically do after seeing a great documentary film? That's what cultural strategist Sonya Childress wants to know. She opened her presentation on February 4, 2021 with this audience question. 
Maybe it's a personal reflection or looking for more information on a topic. Maybe it's talking to others about the new information or changing personal behavior. Maybe it's for the viewer to be spurred to action, that is Childress's goal.
Documentary change-makers use their medium to create a blend of art and truth-telling. Childress explained that film is not just an aesthetic, it is also about empowering people to advocate for change. Film has the power to "make young people want to commit their lives to social justice in any form they wanted it to take.
The social movements happening throughout history and in fact in our life time is not a product of what happens on social media or movie screens. "Change happens in social movements," said Childress. "And every movement needs storytelling."
Throughout her talk, Childress used a mix of media, recommendations, and story-telling to explain the importance of art, documentation, and culture in social movements. Her presentation was facilitated by Innovators at Carondelet who have been working to set this speaker series up since last year.
Miss the presentation? A student took over our Twitter account and brought live updates and insight to the timeline.
Join us for the next Speaker Series installation from Carondelet Innovators "Voices of the Future" with Ariam Mogos.
Watch the full presentation here: