Friday, March 27 3:00 PM: Class Schedule for the weeks after Easter Break have been updated. View PDF
Monday: 1/3/5/7
Tuesday: 2/4/6/0
Wednesday: Flex/Connection Day, to allow students, teachers, staff to have individual and small group communication
Thursday: 1/3/5/7
Friday: 2/4/6/0
Wednesday, March 25 3:00 PM: 
Today, we received word from Contra Costa County that all Bay Area counties will extend campus closures through May 1, with the earliest possible return date of May 4. Carondelet and DLS will continue the use of our online learning format through that time. This change adds an additional two weeks of online learning after break. Further details will be sent to families in this week's enewsletter.
Tuesday, March 24 6:00 PM:
ABC-7 featured our Online Learning in a news report on the 5PM and 6PM newscasts. Despite the physical distance, we are committed to providing a whole-person educational experience for our students and to serving our community.

Monday, March 23 2:00 PM:
 We've launched a page of resources for schools and educators to see what's working for us as we move to distance learning.
Sunday, March 22 10:00 AM:
Online Learning schedule updated on page below and in printable PDF
Tuesday, March 17 6:00 PM:
Third week of Online Learning (March 30 - April 3) class schedule added 
Tuesday, March 17, 12:15 PM:
Students may submit a ticket and request support with resources such as their iPads, software systems like Schoology/Google Suite/etc. Request tech help

---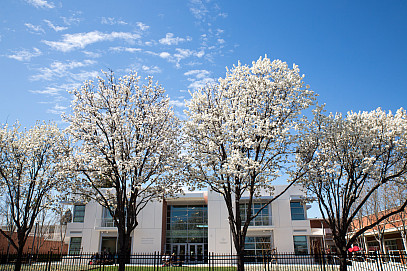 Due to the updated Contra Costa Health Services order to shelter in place, Online Learning will continue through May 1 with classes potentially returning to campus on May 4, 
Spring Break will now be April 4-19, with classes will resuming online on April 20.
Please remember to practice the hygiene tips and social distancing advice as the most important thing is staying healthy and not spreading this virus.
Please note that Carondelet is not shutting down. Classes will still be held, attendance taken, and active participation is expected. We will still be posting daily morning prayers, sending messages and videos through Student Life, and providing opportunities for student engagement. Our hope is to continue the educational experience as thoroughly as possible with digital and online tools.
We will continue to post important updates on this webpage and communicate them to families by email, and, if necessary, by text message.
This is a difficult time for all of us, and we appreciate your support and trust in our schools during these unprecedented times. Continued prayers of hope and healing for those affected around our world, and for all those on the front lines working to care for the sick.
Online Learning
The Carondelet and De La Salle faculty and staff have been preparing for this change over the past few weeks. We are confident that students' learning experience will continue as normal as possible amidst these abnormal times.
This means that students are expected to attend their virtual classes, complete their assignments, and follow our policies, such as attendance, throughout the duration of this time. 
If your student is unable to attend their online learning classes, you are expected to call the attendance line to report any student sicknesses.
All of these policies are outlined in our Student Expectations for Online Learning document. 
Campus Closed
During Online Learning, no one will be allowed on campus. During this time our Facilities team will disinfect both our main campus and the Carondelet Athletics Complex as a preventative measure. 
Extracurriculars and Events
All events scheduled through Spring Break are are either canceled, rescheduled to later in the year, or modified to happen virtually. Events scheduled after Spring Break will be reviewed individually. View online Calendar.
All athletics activities have been suspended until further notice.
Staff Available
Though our physical campus is closed, all staff will continue to serve students and families remotely. All campus resources will be open and staff are ready and enthused about working with each student just like any other school day. The only change is that this will all be happening virtually.
Students may contact our Wellness Counselors via email or voicemail message. College & Career Counselors will also be available to meet virtually with your student, and students can send an email to contact them. View full Faculty/Staff Directory.
Wellness Resources
In this time of global unrest and uncertainty, we are all doing our best to ease our own fears, as well as alleviating the anxiety of our children. Mindfulness is especially important now, to help de-stress the body and mind, and mitigate the physical and emotional effects of fear and stress. We hope you find this collection of resources helpful:
Upcoming Timeline
Monday, March 16 - No classes; Faculty/Staff PD Day
Tuesday, March 17 - Online Learning begins
Friday, March 20 - No classes; Faculty/Staff PD Day as scheduled
Friday, April 3 - Last day of Online Learning before Spring Break
Saturday, April 4 - Updated Spring Break begins
Monday, April 20 - Classes resume on-campus or online