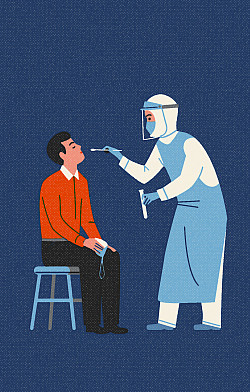 Testing will take place on our campus. We are working with PMH Laboratory and Agile Force, Inc. to provide this service. All testing is voluntary, and we strongly encourage you to take advantage of this opportunity. 
---
Wed. Jan. 13 Testing
8:30 AM - 3:30 PM
COVID-19 PCR testing will be offered. COVID-19 testing is covered and paid for under the federal CARES Act and the vendor will bill your insurance carrier (including Blue Shield and Kaiser), so you will be asked to bring a copy of your insurance card with you. You can also be tested even without insurance. In any case, there will be no cost to you although you may receive a notice from your insurance carrier after testing.
Sign-Up
You must sign-up via the online scheduling form to make an appointment. After registering, the vendor will send reminders to each participant by email and text message 24 hours and 2 hours prior to the scheduled appointment. Currently, the calendar allows for one appointment per time slot. We will monitor the calendar and adjust to allow for additional appointments, if needed. Sign up by midnight on Sunday, Jan. 10.
Before Arriving
It's critical that you bring completed forms with you to your Test Day. Once you schedule an appointment, you will receive a confirmation email with the following documents included:
Testing Day
On the day of the test, you'll arrive to campus and follow signage or directions to the testing site. A nurse will ask for your insurance information, completed paperwork, and then will collect a nasal swab sample for the RT-PCR test and a small blood sample for the antibody test. You do not need to have both tests, but both will be available.
After Testing
The sample(s) will be sent to the laboratory to process and results will be sent to our local health department; individual participants will be able to access results through the PMH Laboratory website after 3 business days from the date of the testing. No further actions will be required if results are negative. If the results are positive, a representative from the lab will contact you and a consultation can be scheduled with a lab scientist or doctor to review the results and next steps.
The testing lab (PMH Laboratory, Inc.) will provide an aggregate report to the school that will only show the number of negative results and positive results for those tested. If you would like as your employer to know your individual results, then you will need to sign the attached Authorization to Disclose form. Importantly, you are not required to sign this Authorization to Disclose form.
If you complete the Authorization to Disclose form, then Carondelet will be contacted by the lab regarding a positive test result with the names of any employees who consent to disclose. The benefit to school of having employees sign the form is that it will make contact tracing much easier for those who test positive. If you choose not to sign the authorization form, then you will be contacted directly by the lab if you have a positive result and you will be encouraged (not required) to self-report.