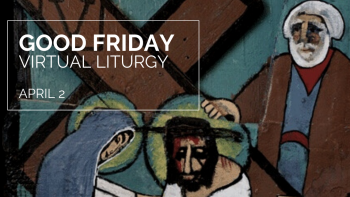 Credit: Art courtesy of St. James Cathedral (Washington), and artist Joan Brand-Landkamer.
Holy Week begins Sunday, March 28 with Palm Sunday, when we recall Jesus' happy entry into the city of Jerusalem to celebrate Passover. As we move through the rest of the week, we will painfully recount the last days of his life and prepare to celebrate the Resurrection on Easter Sunday, April 4, 2021.
Jesus' suffering, death, and resurrection change everything. Jesus changes suffering into love; hatred into acceptance; injustice and discrimination into inclusion; death into life.
As you walk through the mystery of our faith for Holy Week, we hope you will participate in some of the prayers that Spiritual Life Council has created for our extended community. There are short prayer experiences for Holy Thursday and Holy Saturday and a full Stations of the Cross liturgy for Good Friday. Please visit the links below to pray with us.
Introduction to Holy Week Meditation
Holy Thursday Prayer
Good Friday Stations of the Cross
Holy Saturday Prayer
Serving our Dear Neighbor
Our foundation in the spirituality of the Sisters of St. Joseph calls us to remain ever-mindful of the needs of our dear neighbor as we continue to journey through this season of transformation. If you are looking for ways to serve the community, take a few minutes to visit our Community Service webpage for opportunities.
Have a blessed Holy Week and a safe Easter Break!