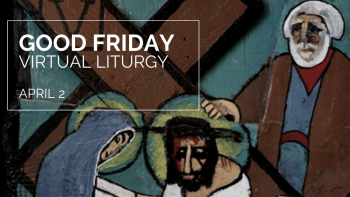 Credit: Art courtesy of St. James Cathedral (Washington), and artist Joan Brand-Landkamer.Since most churches are unable to host public gatherings at this time, all are invited and welcome to participate from home in a virtual Good Friday liturgy created by students in Spiritual Life Council. We look forward to joining our hearts with yours in prayer during these uncertain, yet holiest of days.
We invite you to join us in prayer for Holy Week. We will provide simple prayers for Holy Thursday and Holy Saturday, as well as a full liturgy with Stations of the Cross on Good Friday.
Good Friday virtual liturgy will play on Friday, April 10 at 12 PM.
Prayers
Campus Ministry has created simple prayers for Holy Week. They'll be available below on Thursday and Saturday. 
Holy Thursday
Holy Saturday
Resources
These few days, called Triduum, are the holiest days of the year for Christians. This is when we explore most deeply the entire mystery of our faith – that suffering and death binds us all, yet leads to new life when we open our hearts to God's love.
So, how do we honor this sacred time? We do it from home, with our families.
Serving our Dear Neighbor
Our foundation in the spirituality of the Sisters of St. Joseph calls us to remain ever-mindful of the needs of our dear neighbor as we continue to journey through this season of transformation. If you are looking for ways to serve the community, take a few minutes to visit our Community Service webpage for opportunities.