Aside from serving holiday meals to the homeless for over ten years, together with the pastor, she ventured into homeless encampments to meet the homeless and to learn firsthand of their needs. This inspired her to create a huge clothing drive. She reached out to friends, family, and contacted several dry cleaners to collect clothing that was never picked up. These requests, as well as running around to the dry cleaners, netted over 10,000 clothing items.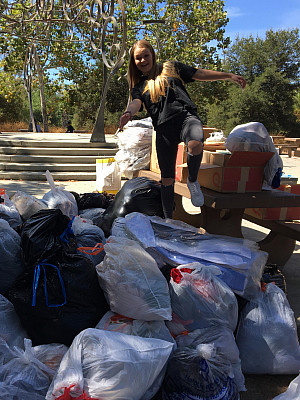 Her multi-year effort culminated in a fall BBQ during, which 100 to 150 homeless came up from the creek and outer areas of the park to get some food, blankets, shoes, and other clothing. Her effort provided not just food and clothing, but also dignity to this group of people.
Shelby Bates received the Jefferson Award for her exceptional long term commitment to impactful community service. She is a change maker. Her goal is to one day become a lawyer to serve the needs of the voiceless.