Emma M. '24 spends her day at Carondelet, but her afternoons and weekends are spent training at the pool. She has been part of the Walnut Creek Aquanuts for almost 10 years training as an Artistic Swimmer (formally known as synchronized swimming). Emma spends around 20 - 30 hours weekly at the pool, and her hard work has paid off! In April, Emma returned from the National Championships for USA Artistic Swimming a winner.
"Currently, I am training on the Junior A team which is the top team at our club. This consists of competing at 2 main competitions, West Zones, and U.S. Nationals. We begin our season in November which consists of extreme land and water training that helps us build up our anaerobic abilities along with our technical abilities. We then move on to choreographing and putting together our team and individual routines. This is the part of the season I really enjoy. I love being able to choreograph routines and work to try to bring new ideas and choreography to the table and just to be able to create new and exciting routines."
Emma and her team traveled to the USA Junior and Senior U.S. Nationals in Tucson, Arizona where they competed for 6 days. They swept the competition winning their 18th national title, the Junior Team High Point Award, and Individual Highpoint. Her team also took home gold medals in solo and duet performances, including her duet winning the gold in Technical Duet!
"These achievements on the national level really represent the hard work, dedication, and resilience our entire team has. Artistic Swimming has recently changed their entire system in how the sport works. Having to navigate this new system has been a challenge for not only myself and our club but our entire country and worldwide. Being able to have such great results in such a new and difficult system has been tremendously rewarding."
Although their main season is over, their training will continue for their international competition in Croatia this summer! Emma will also be traveling to Spain this summer as a member of the Junior National Team Olympic Development Camp. In Spain, she will train with other international athletes and coaches. Emma plans on continuing and improving her Artistic Swimming career while also preparing for college and planning the beginnings of her other careers.
Amazing job Emma, we look forward to hearing more about your success in the future!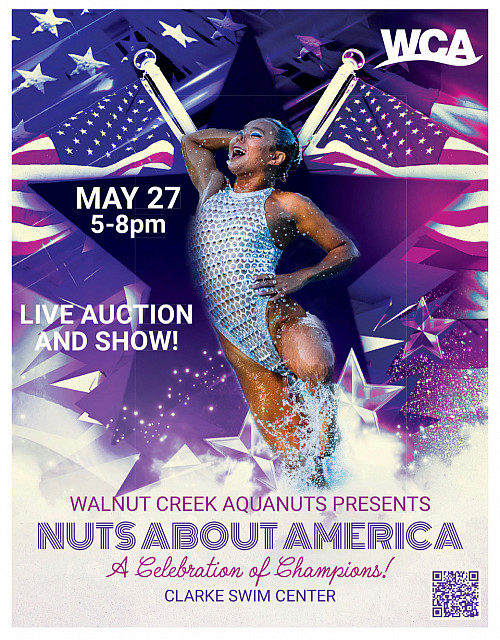 Emma on the cover of the Walnut Creek Aquanuts (WCA) Celebration of Champions program.