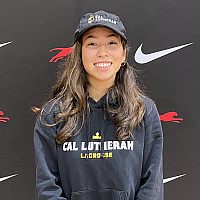 Isabella Bravo will continue her lacrosse career at California Lutheran University as a Regal. Isabella was a three-year starter on JV before becoming the Varsity goalie her senior year. Her most memorable experience was this season when Carondelet defeated San Ramon Valley. This was the first time they had beaten San Ramon Valley since 2016. Isabella chose California Lutheran University because from the time she stepped on campus, she felt like she had found her place. The coaching staff, athletic department, professors, and other students and athletes were extremely welcoming. She loved the school spirit and overall atmosphere of the tight knit community.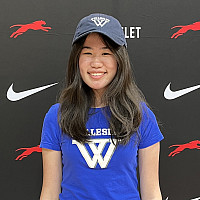 Emily Hou will continue her golf career at Wellesley as The Blue. Emily transferred to Carondelet her junior year. During the spring 2021 season which was shortened due to COVID—she played in 6 of 12 matches, and was the medalist at Bridges vs Cal by shooting a 1-under par round of 37. Emily is proud of being named team captain in the fall 2021 season, winning the 2020 Women's San Francisco City Amateur Golf Championship, and being co-MVP of her team in fall 2021. One of her most memorable experiences was the 2021 season when she felt that her team was truly a family. She chose Wellesley for the Ivy League-caliber education for women and looks forward to the opportunity of becoming a female leader within a community of female leaders.
Lucy Lamborn chose Quinnipiac University to continue her rugby career as a Bobcat. Lucy joined Rugby her sophomore season and was a varsity starter on the 7s and 15s all four years. She is proud of holding the title of captain her junior and senior seasons. She is proud of being named Player of the Match on multiple occasions and leading her team to a NorCal Championship this season. Her favorite memory was crying tears of joy with her co-captain Savannah after winning the NorCal Championship knowing that all their hard work had paid off and they had made a name for their team. Lucy chose Quinnipiac University because it had everything she was looking for in a college. Alongside the quality of their academics, the rugby team is DI and incredibly skilled. She is grateful to become a part of the team. The chemistry is amazing and the coaches' values align with her own.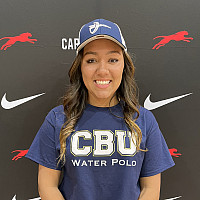 Aubrey Newton has chosen California Baptist University to continue her water polo career as a Lancer. Aubrey was on the varsity water polo team all four years at Carondelet and was team captain her junior and senior seasons with her best game coming against Justin Siena in the NCS semi-finals when she scored three goals. Aubrey was named All League Honorable Mention her junior year, All League Second Team her senior year, and was chosen for the NCS/CCS Senior All Star Game. Her favorite memory was the triple overtime win to clinch Carondelet's first ever NCS water polo championship. Seeing all the crying, happy faces as everyone jumped into the pool is a memory that she will cherish forever. Aubrey chose California Baptist University because the coaches and faculty were very welcoming and kind, and the student life is both fun and enriched in faith.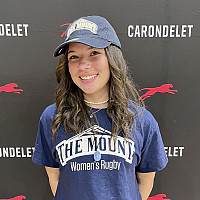 Savannah Short will continue to play rugby at Mount Saint Mary's University as a Mountaineer. Savannah joined rugby her freshman year, which was the inaugural season for the Carondelet team. She was a varsity starter on the 7s and 15s all four years and holds the record for most points scored in a season. Savannah is proud of holding the title of captain since her sophomore season. Her fondest memory is meeting her best friend Lucy on the team and working together to defeat Bishop O'Dowd to win the Nor Cal Championships this season. She chose Mount Saint Mary's University because of the overwhelming sense of community. After learning about the research, academic, and athletic opportunities The Mount provides, she knew this was the place for her. The bond created when she met with the team during her campus visit was instantaneous. Mount Saint Mary's also offered a neuroscience major and a ton of academic support for students and athletes alike.
Director of Athletics, Piper Brewster said, "Although this is just my first year at Carondelet, I have come to realize how determined and inspiring each and every one of our student athletes are. Every day that I've been here I have had the opportunity to witness how hard they all work—spending hours in the weight room, the classroom, and on the playing field or pool. They've sacrificed their afternoons and weekends, working hard to balance their academic and athletic success. Each of them has represented their school well during their time as a Carondelet student-athlete, and as a leader, and I know they will continue to do so at the collegiate level."
###
Carondelet High School is an equity-focused, inclusive Catholic, college-prep high school in the East Bay that offers young women a transformative educational experience. Since its founding in 1965, Carondelet has combined academic excellence and a recognition of the unique gifts of each of its students. The school's focus is a woman-centered, comprehensive educational program designed to help young women build confidence and prepare for leadership and service in the 21st century.
Carondelet Athletics sponsors 36 teams, 18 sports, 546+ student-athletes with an average GPA of 3.78, and one Coug Nation! In Carondelet's 57 years, the school has won 141 league championships, 61 North Coast Section championships, and three state titles. The high school offers a unique athletics experience where students enjoy the opportunity to develop athletic abilities concurrently with the development of the highest standards of scholarship, leadership, sportsmanship, and school tradition.