CONCORD, CA, Nov. 10, 2021—Carondelet announced that seven Cougar student-athletes have signed National Letters of Intent.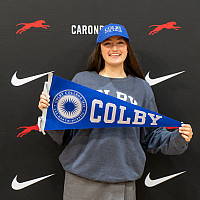 Avery Ehrlich will continue her volleyball career at Colby College as a Mule. Avery was named MVP of JV volleyball as a sophomore, named all-tournament player at The Viking Classic and the Sonoma Valley Tournament, and made the second all-tournament team in the East Bay Athletic League. She chose Brandeis because the coach matched her level of competitiveness, the community at Brandeis is amazing, and the academics are even better. Watch video interview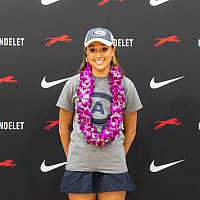 Nya Epps will continue her basketball career at University of California, Davis as an Aggie. She is proud of her team's 10-1 record last year, being named to the Bay Area News Group's Fab 25 Girls Basketball Players list in 2021, and becoming the 3rd Carondelet team to win a CIF state championship. Nya chose UC Davis because of the great academics and successful basketball program. Along with her instant connection with the incredible team and coaching staff, both her parents attended Davis so she knew she wanted to be an Aggie early on in life. She also immediately fell in love with the campus and envisioned herself there for the next four years. Watch video interview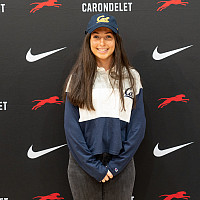 Annaliese Giusto chose University of California, Berkeley to continue her soccer career as a Bear. Annaliese is proud of helping her team win NCS and its first CIF NorCal state championship. One of her favorite memories was getting to play on the same field as her brother, Dominic, right before he played in the NCS championship for De La Salle, and the same year helping her cross country team qualify for the state meet with her dad as the coach. She has always been drawn to Cal and becoming a Golden Bear. She was drawn to Cal's excellent academics and high-ranking soccer program since it would challenge her to be her best. Watch video interview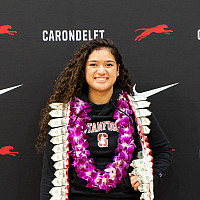 Point guard Talana Lepolo has chosen Stanford to continue her basketball career as a Cardinal. While Talana has yet to play for Carondelet because she transferred during her junior season, her three sports accomplishments that she is most proud of are winning the Nike Nationals, being ranked in the ESPN Top 75, and winning the NCS Open Division. Talana chose Stanford because it has been her dream school since she was a little girl, so choosing it was a no-brainer. She wanted to go to a school where the academics were just as strong as the basketball program and Stanford has the best of both of these worlds. It's also close to home so her family can still be there to support her and come watch her games. Watch video interview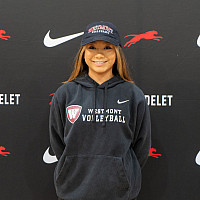 Ilyssa Ocampo will continue to play volleyball at Westmont College as a Warrior. Ilyssa has been a member of the varsity volleyball team since sophomore year, was a starter her junior year, and became captain her senior year. Ilyssa chose Westmont College because of its commitment to community and faith and their challenging academics. She is looking forward to how the Westmont Volleyball program pushes her to be the best person both on and off the court. Watch video interview
Jenna Ravarino has chosen Vanderbilt University to continue her swimming career as a Commodore. Jenna has been an integral part of the Cougar swim team's success over the past four years. She is extremely proud of making varsity as a freshman, qualifying for North Coast Sectionals, and winning both of her events for the EBAL championships junior year. Jenna chose Vanderbilt University because of the incredible academic rigor as well as the high level Southeastern Conference athletics. She is excited to be a part of an outstanding swim program that will challenge her to be the best swimmer, teammate, and person she can be. Watch video interview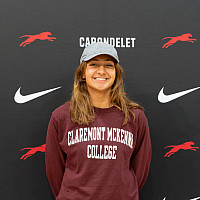 Annika Sharma will continue her swimming career at Claremont McKenna College as an Athena. Annika is proud of winning NCS her freshman year of high school (while at Monte Vista), swimming and keeping her hopes up through the pandemic, and being an NCS finalist. She chose Claremont McKenna College because of the perfect balance between swimming and academics. The team environment is very optimistic and welcoming, and the school itself provides a diversity of opportunities. The proximity to home was also an additional attraction. Watch video interview
Director of Athletics, Piper Brewster said, "Although I've only spent a few short months here at Carondelet, I have already realized how special each and every one of our student-athletes are. Every day that I've been here I have had the opportunity to witness how hard they all work—spending hours in the weight room, the classroom, and on the playing surface. Pushing through late night games and early morning classes. Each of them has represented their school well during their time as a student-athlete, and a leader, and I know they will continue to do so at the collegiate level."
###
Carondelet High School is an equity-focused, inclusive Catholic, college-prep high school in the East Bay that offers young women a transformative educational experience. Since its founding in 1965, Carondelet has combined academic excellence and a recognition of the unique gifts of each of its students. The school's focus is a woman-centered, comprehensive educational program designed to help young women build confidence and prepare for leadership and service in the 21st century.
Carondelet Athletics sponsors 32 teams, 17 sports, and 546+ student-athletes with an average GPA of 3.78. In Carondelet's 56 years, the school has won 140 league championships, 58 North Coast Section championships, and three state titles. The high school offers a unique athletics experience where students enjoy the opportunity to develop athletic abilities concurrently with the development of the highest standards of scholarship, leadership, sportsmanship, and school tradition.