John and Donna Sabatte spent a lifetime supporting education and instilling Catholic values in their children.
Donna was raised in Utah and moved to Los Angeles in high school. After graduating from high school, she moved to Oakland and lived with her sister. She converted to Catholicism and went to nursing school. John worked at Berkeley Farms, the family business that was founded by his mother and father in 1910. Donna and John met through mutual friends.
They were soon married and eventually had five daughters, Suzanne, Christine, Nanette, Emmelie, and Jeanette. They moved from Oakland to Lafayette in 1959 and purchased a home not far from St. Perpetua Catholic School so that the girls could walk to school. John and Donna were very involved in their children's education, never missing a school or parish function, fundraiser or social.
Christine's earliest memory of Carondelet is when she was in 6th or 7th grade. Her mother took her and her sisters to the high school for a blessing. The campus had just been completed, and Donna took them onto one of the balconies on the second floor, "This is where you are going to go to high school," she informed them. Christine remembers the trees being planted below her in front of the office as her mother promised that all of Sabatte daughters would attend Carondelet. She reflects:
"Carondelet is a community of women who use their faith, heart and courage to challenge the world. My sisters and I were at the advent of change. Women of our generation were focused on family and career. We paved the way with the help of the Sisters and faculty and Carondelet. They taught us that you can be anything you want if you work hard, pray hard and learn as much as you can."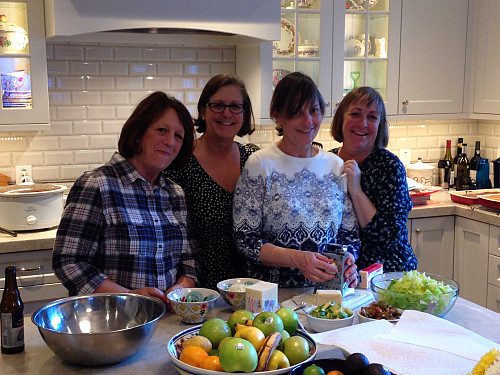 The Sabatte sisters attended Carondelet from 1968 to 1981. They participated in student council, social action and attended many sporting events. They studied hard and all went to college. Suzanne, Nanette and Jeanette all became teachers (mostly in Catholic schools), Emmelie followed in Donna's footsteps and became a nurse and Christine worked in the family business. Each married and together they have 12 children. John and Donna paid for their grandchildren's education and upon his death, John had 7 in college as well as 5 in grammar and high school. All were very grateful for this gift of education from Donna and John. Emmelie comments:
"Carondelet offers young women the opportunity to learn and grow in an environment that the Sisters created to provide a spiritual framework for that growth. Because of this, Carondelet gives these young women a unique opportunity to thrive."
Donna passed away at age of 69 in 1985. It was a shock to the family because she was so young and so much a part of the girls' lives. Sister Kathy, then principal at Carondelet, helped John and his children establish a scholarship in memory of their much beloved, Donna. When John and Nanette passed away in 2012 the scholarship was named after the Sabatte family.
"The scholarship began with funds donated in honor of our mother after her death. She truly loved the Sisters of St. Joseph and we all agreed that Carondelet was the best place for bequests," says Jeannette.
"My sisters and I will always be thankful for the love of education and service to others that our parents taught us. We have tried to instill those same values in our children," Christine says proudly.
We hope to always honor the tremendous Carondelet legacy of the Sabatte family through the Sabatte Family Scholarship.