"Whatever you do, work at it with all your heart, as working for the Lord, not for human masters" Colossians 3:23; that's the quote in Lauren Rivera's Instagram bio, and it's indicative of who she has grown into throughout her time as a Carondelet Cougar.
"I just feel like that's so beautiful. Everything you do, it's not for this world," Lauren said. "That quote, it just really embodies why I do a lot of the stuff that I do." And she does do a lot of stuff.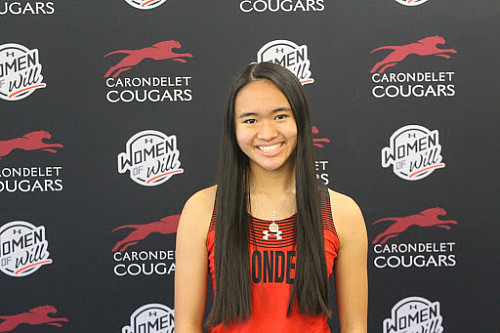 To be named the Carondelet Valedictorian, working hard and with all your heart is all but a requirement. According to the selection process, a student must be in the top 5% academically as well as "possess an exemplary record of conduct, leadership, and service that reflects their support of the Carondelet Mission Statement and the Mission of the Sisters of Saint Joseph."
With the school year coming to an end, this soon-to-be alumna was hard to pin down having taken four AP tests in just three days on top of her other extracurriculars and senior commitments. This dedication to academics comes from a learned hard work ethic that started freshman year when she submitted a less than stellar essay to Mr. Chaffey. "He gave it back to me and said, 'I know you can do better.' I was so hurt in the moment, but then I redid it and I just love that he believed in me and knew I could do better."
Now, a self-proclaimed night owl, Lauren is not afraid to put in the work to make the grade, "I'm very goal-oriented," she said.
Her AP Literature teacher, Mrs. Woo described Lauren as someone who, "brings a wonderful blend of laughter and diligence to the English classroom. She has been a joy to teach."
Reflecting on her last four years, she realized how much she's grown, "I feel like I'm a lot more confident.
"I probably wouldn't have been able to (talk about myself) back in freshman year."
Serving others
Apart from academics, Carondelet also nurtured her faith: "Going here, all the liturgies, religion class, it all made me comfortable talking about God."
Becoming comfortable meant incorporating faith into her daily life and everything she does. It keeps her on balance, "Just making sure that I take time every day for myself, and with God—obviously," she said.

At the height of the pandemic, when mass was on hold, Lauren explained it was hard not being able to attend. Ultimately, though, her bond with God is stronger because she had to create a more personal relationship. "I journal every day and write a letter to God, just spending time in prayer." This journal is not a diary though. "I'm thinking of it in a perspective like, 'Here's what God wants me to see from each of these situations in my life."
For Lauren's mom, Lesli, faith is something she made sure has always been incorporated within her family, and she is so thrilled with how Lauren puts hers into practice every day: "The Catholic faith is best when it's lived and shared every day," she said.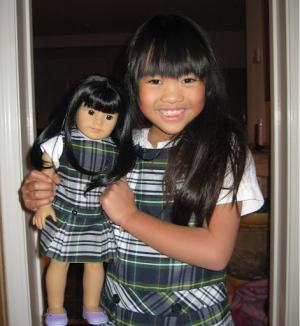 One way Lauren shares with others is through her non-profit, Adopt a Doll. "When I was younger, I loved playing with American Girl dolls. I designed clothes for them, created fun videos, and took them everywhere," said Lauren.
She's talking about the inspiration for a project that would eventually take on a life of its own. Lauren collects gently used American Girl Dolls, refurbishes them, and then finds them new homes with girls who will love them through partnerships with Oakland Children's Hospital, Shelter Inc., Shepherd's Gate, Running with Love or Down Syndrome Connection.
"I wanted to share this happiness with young girls who are experiencing a difficult time in their lives," she said.
Even throughout the COVID-19 pandemic, Lauren has continued this passion project and plans to host an 'adoption day' later this summer. "I realize it's a small thing to do—this isn't saving the world, but when a little girl receives a doll from someone she doesn't know, I hope it tells her somebody cares about her, she is loved, and the world is good."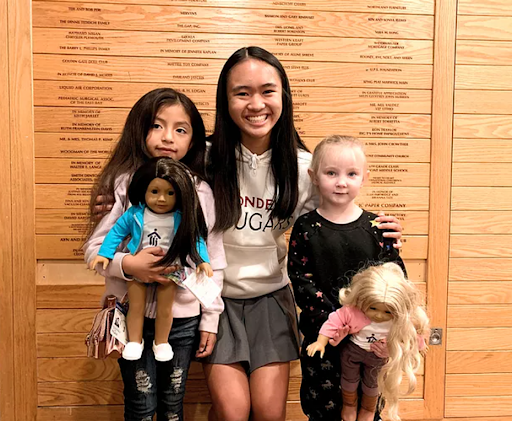 "I hope it tells her somebody cares about her, she is loved, and the world is good."
Though she is leaving for college in the fall, Lauren plans to keep holding her adoption days on breaks from college.
Moving on
By August, Lauren will be almost 2,000 miles away from the Bay Area and her family as she starts school at the University of Notre Dame.
"It's an adventure," said her mom. "We're really proud that she's going on this journey."
Lauren knows just how proud her parents are, and explained she's going to miss them "next to me, supporting me" when she moves to Indiana. She said, "They're not excited for the distance, but I've promised them I'm going to call every day."
During the height of the COVID-19 pandemic, her older brothers, twins both attending UCLA, were back home. "It was loud, but so fun having them home." According to Lauren, both men wanted her to join them at UCLA. Eventually, though, the promise of Notre Dame's top-notch business school and the opportunity to go to mass on campus swayed her to Notre Dame.
Her family need not fear, though. Lauren says she plans to come back after graduation. She wants to start her own business, product and/or service to be determined, and start a family to be raised near her own.
"We're incredibly proud of Lauren," said her mom. "She's got this optimism and openness to people and situations… She bounces back from challenges and takes it all in stride. I can't wait to see what she does with the gifts God has given her."
Lauren also thinks she'll miss the Bay Area too much to stay in Indiana past her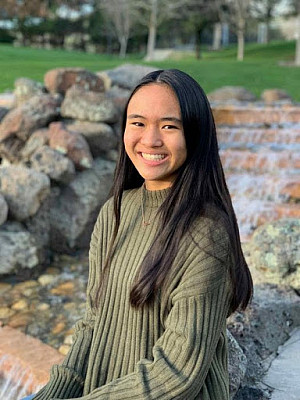 college years. "Obviously I'm Asian," she laughed. 'It's going to be a big change for me coming from so much diversity here. I'm going to miss just going out—going to go get boba and stuff like that."
Bonds of Sisterhood
When it comes to missing things, her friends at Carondelet also top the list. "The senior class is really tight-knit… I feel like we (the class of '21) all just clicked. It's such a great group," she said.
"I honestly love going to school with only girls… It's made me more appreciative of just having my sisters around me. It's so special."
Lauren recalled her friend's birthday a few weeks ago, sitting in the Jean Hofmann Center for Innovation—a favorite lunch haunt for the senior class, "We all started singing happy birthday, and the whole building joined in. It was so cute."
She thinks COVID might have played a role in forging the strong bonds within her class. "Just knowing we're all in this together," she said. "It makes the moments we do get to see one another that much more special…COVID) didn't hold us back"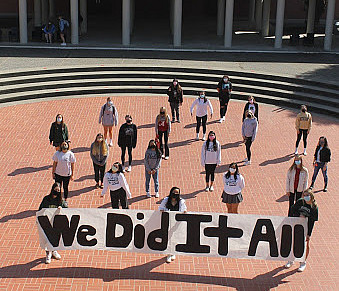 Reflecting on the fast-approaching Graduation day, she got misty eyes. "This is gonna be our last time as a class, so it's going to be bittersweet."
"The first time I visited Carondelet, all I can remember is stepping into the Inner Court and thinking that it looked like something out of Cinderella… It looked so fancy and I almost felt like a princess," said Lauren.
"Now, it just feels more like home."