Black history is excellence.
Black history is American history.
Black history is important.
"Reflections on Black Excellence"
Wednesday, February 24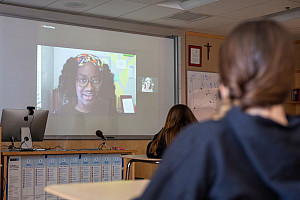 Bobby Baker appears projected on-screen in front of a classroom of students.The Black Student Union hosted their "Reflections on Black Excellence" assembly. Students and staff shared personal stories and reflections on Black goodness, beauty, and truth. It was a beautiful and insightful way to celebrate Black History Month and the excellence of Black people, girls and women everywhere, and all people.
We couldn't gather as a full school community, so Seniors and Frosh watched today and we're looking forward to Juniors and Sophomores seeing the assembly and hearing from their classmates next week.
BSU students said there are three ways our school community can take action:
Follow BSU's Instagram page: @bsu_carondelet
Learn about black history
Commit to the work of anti-racism
Black Excellence Worldwide
In celebration of Black History Month at Carondelet, French 3 classes explored the artistic and social legacies of great African-American artists who left for France to escape segregation, discrimination and violence. In Paris, they found solace andinspiration. Students virtually visited Josephine Baker, Loïs Mailou Jones and James Baldwin's favorite neighborhoods, cafes, gardens and clubs where they honed their art.
Sr. Thea Bowman
Thursday, February 11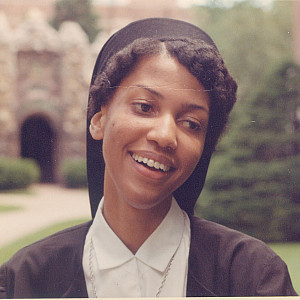 Symbols & Ethics classes with Ms. Roddy started the day learning about Sr. Thea Bowman. In the video, Blessed Among Us: Sister Thea Bowman, students learned that she was a member of the Franciscan Sisters of Perpetual Adoration and a founding faculty member of the Institute for Black Catholic Studies at Xavier University in New Orleans.
Throughout her life she embraced her heritage, teaching cultural awareness and sensitivity as well as bringing her talents of evangelizing and singing to her ministry.
In a speech to American Catholic Bishops in the final year of her life, she said, "I come to my church fully functioning.
"I bring myself, my black self, all that I am, all that I have, all that I hope to become, I bring my whole history, my traditions, my experience, my culture, my African American song and dance and gesture and movement and teaching and preaching and healing and responsibility as gift to the Church."
In 2018, her cause for canonization began and she is now "Servant of God" Sr. Thea Bowman. The hope was for students to contemplate on who they are, all part of themselves, and realize that they too can be all who they are with God.
Black Pioneers
Wednesday, February 10
The Inner Court is now decorated with posters showcasing Black pioneers who have contributed to our society and culture in myriad ways—Painters and Poets, Rocket Scientists and Olympians, Activists and Neurosurgeons. The interactive gallery of 28 influential Black pioneers was adapted from JPIC Sisters of St. Joseph Brentwood. 
The Power of Film
Thursday, February 4
Though the average person would call her a filmmaker, Sonya Childress prefers the title Social Impact Producer.
In her webinar talk on documentary filmmaking, she described how creators use their medium to blend art and truth-telling. Childress explained that film is not just an aesthetic, it is also about empowering people to advocate for change.
Film has the power to "make young people want to commit their lives to social justice in any form they wanted it to take," Childress said. "Change happens in social movements. And every movement needs storytelling."
Read the recap or watch the full webinar.
Celebrating Black History Month
Monday, February 1
Today we begin celebrating Black History Month. More than ever, this is a welcome time for the education and celebration of Black American culture. Check out the student-run Black Student Union Instagram account for educational posts, facts, and perspective so we may all grow and learn as a community.
Morning Prayer
Monday, February 1
Campus Ministry
Today marks the beginning of Black History Month and this morning, let us pray with this prayer from Howard Thurman, a prominent Black minister and theologian who mentored leaders in the Civil Rights Movement.