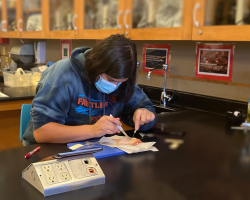 Rolling up her sleeves in preparation, Kendall Brazeel '21 makes her initial incision."Do you think this would be a fatty tissue?" Talana Lepolo '22 whisper-yelled to the other side of the lab room. She was holding up a raw chicken wing.
She's new to Carondelet this semester and is excited to be back in the classroom working hands-on with something she's passionate about.
As students jump back into school, the Anatomy and Physiology classes are dissecting raw chicken wings to look at the skeletal and muscular systems they just learned about.
Whether the student is learning from home or in the classroom, they all use the same guide. Those working independently watch a video of the dissection while others come in-person for the chance to get their hands dirty.
"A chicken wing's structure is similar enough (to a human's) to be able to look at how the skeletal and muscular structures work together," said Janine Orr. "We're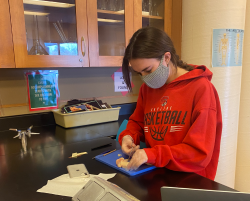 Excited to be working hands-on, Holly Doherty '21 dives in to the dissection. taking everything we've been learning and getting to see it."
Separated from one another at different lab stations, students cut, poke, and photograph their specimen on their own. However, the collaborative element of dissections can still be found in the chatting across stations and the assertion that they might be giving up poultry for a while.
No one shied away from digging in, though. "The last dissection I did was a cow eye in middle school, but I'm a lot less squeamish than I used to be" said Jenna Clune '21 with a laugh. "There's a lot less liquid in this one which probably helps."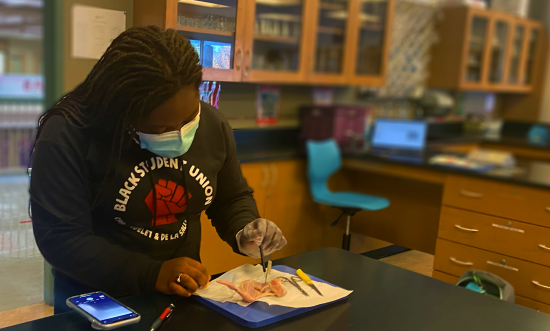 Identifying and labeling the chicken wing, future med student Niala Cole '21 loves learning about how the muscle system functions.
Orr explained that even if students are not planning on pursuing a career in medicine or science, "Learning about your body is never a bad thing." However, many students in the class expressed interest in continuing their study of the body after leaving Carondelet, with dissection tools in hand and masks on, they look every bit the scientists and doctors they want to become.
Sally Hall '22 agrees: "It's really cool—I've never really thought about what all is in every single piece," she said.