Chloë de Smedt '22 was named a "Rising Star" for her efforts and lifestyle choices around environmental sustainability. 
Chloë was presented the award in a virtual Contra Costa's Leaders of Sustainability awards program on September 17, 2020. She was recognized amongst small business owners and activists with decades of efforts in building sustainable communities.
"I think of how my life could be affected in the future growing up in this world," said Chloë. "The small impact each person has becomes a large impact. It can really have the potential, if everyone works together, to save our world which is in pretty critical danger right now."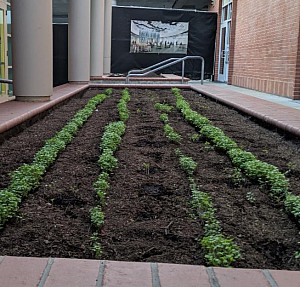 On our campus, Chloë is President of Green Team and a member of Model UN. She also volunteers with Sustainable Contra Costa, working on the organization's newsletter and social media teams.
Green Team has created an on-campus garden, partnered with Facilities to add composting bins around campus, created how-to videos for students, and made presentations to faculty and CSJ Sister Schools.
As the name of the award suggests, Chloe has her eyes set on the future. "My dream career is to work for the United Nations Environmental Program, which is part of the reason I've been so involved in Model UN, as well. It's what I see myself doing in the future. It's a really big goal I have. I want to study environmental science and international politics so that I'm eventually working on a global scale. Which starts with making videos at Carondelet."
From Sustainable Contra Costa:
Chloë De Smedt is a junior at Carondelet High School in Concord. She leads a sustainable lifestyle and encourages others to do so through projects in sustainability, including creating videos for her school that promote sustainability, managing her school's environmental council's social media pages, attending and speaking at environmental leadership conferences, and promoting sustainable events. 
Chloe is an active member of Carondelet's Green Team, a newly-founded environmental council, and was promoted to president this year. She has led projects such as building an on-campus garden, leading in-person composting training, planning Earth Week activities, and collaborating with local organizations for a sustainability expo. She is currently working on building vertical garden structures and living walls to display around Carondelet. She is a passionate individual and leads a lifestyle that follows the United Nations' Sustainable Development Goals and sets an example for those around her.