CONCORD, CA, Sept. 11, 2020—Kelly Sopak has been named the head Varsity Basketball coach at Carondelet High School, Director of Athletics Scott Kennedy announced Thursday.
Director of Athletics Scott Kennedy said, "Kelly Sopak brings in a healthy resume with an abundance of experiences that we haven't had before with a good solid reputation and work ethic. Coach Sopak is not just the best head coach for us right now, he's the best head coach for us today, tomorrow, this year, and next. Coach Sopak is the future of Carondelet basketball, bringing a skillset and mindset that we need both on and off the court. Kelly Sopak makes us better on Day 1."
Coach Sopak has established a strong reputation as a successful coach over the past decade and a half in the Bay Area at high school and club basketball worlds. Sopak previously led programs at Miramonte (2009-20) and Northgate High Schools (2005-09). His achievements expand into the travel basketball circuit as the founder, director, and coach of the signature U-17 team of the Cal Stars Basketball Club. Coach Sopak founded the Cal Stars in 2006 and has been serving as the club's Director and Elite head coach since that time.
"Carondelet is the pinnacle of girls basketball here in the Bay Area, if not the state of California. Our goal is to put it on the national map, as well," Kelly Sopak said. "I think Carondelet has the resources and the administrative support and community backing that could put our school on the national map as far as women's basketball."
In the CIF, Coach Sopak has secured a record of 398-45 (.898) and garnered sustained postseason success, as well. His postseason accomplishments include 1 CIF Open Division NorCal Championship (2016), 6 CIF NorCal Finals appearances, and 4 NCS Section Championships.
While at Miramonte HS, Sopak coached Sabrina Ionescu who is now one of the most well-regarded athletes in basketball. Ionescu set national records while at the University of Oregon and was drafted #1 overall by the New York Liberty in the WNBA.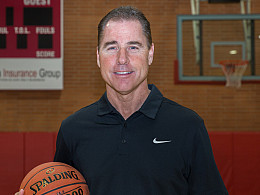 Sopak's coaching experience is supplemented by club basketball expertise, with more than 1,500 games coached over 14 years at Cal Stars. His teams have made many deep runs in national tournaments, including finishing as National Champion three times in 2015 (Nike), 2012 (Adidas), and 2011 (Adidas), National Runner Up in 2013 (Nike), Final Four in 2019 and 2017 (Nike), and Elite Eight in 2016 (Nike).
Youth athletes playing under Sopak's instruction have had a continued track record of moving on to successful collegiate careers, with more than 250 student-athletes moving on to play at the collegiate level.
Principal Kevin Cushing said, "A couple of the goals of our Athletics program are to provide a successful experience, not just in terms of wins and losses, but in being able to participate in a journey that allows for growth and development as part of a team, to become a better athlete and player in their specific sport, and to provide opportunity to compete at the collegiate level if that is a goal for our athletes. Kelly Sopak has a proven track record of providing all those goals for his basketball players and we know that our basketball players will be provided a wonderful journey and will be provided an environment where their skills will grow and develop as we compete against the best of the best."
"I ask the young ladies to work hard, be disciplined, be fundamental. I do that in my coaching," Coach Sopak said. "Our coaching staff is going to be prepared. We are really going to put the girls in a position to succeed on and off the court and I think they should feel that, see it, and we should live it every day."
Carondelet Basketball experienced great success in the past two decades. The Cougars won its only State Championship in 2004, anchored by Jayne Appel. And the team earned sustained success during that time, winning its NCS Division 14 times since 2003.
Sopak said, "It's an incredible opportunity to get this program to where it's been in the past. I'm excited to get to work."
###
Carondelet High School is an inclusive Catholic, college-prep high school in the East Bay that offers young women a transformative educational experience. Since its founding in 1965, Carondelet has combined academic excellence and a recognition of the unique gifts of each of its students. The school's focus is a woman-centered, comprehensive educational program designed to help young women build confidence and prepare for leadership and service in the 21st century.
Carondelet Athletics sponsors 36 teams in 18 sports and offers a unique high school athletics experience where our students enjoy the opportunity to develop athletic abilities concurrently with the development of the highest standards of scholarship, leadership, sportsmanship, and school tradition.