What Jordyn has been up to…
Senior and captain of the Varsity Soccer team, Jordyn Young '21, gives back with the help of the Varsity and Junior Varsity Soccer teams. She and her teammates donated bags of coats and other personal items for the Hall Closet at Juvenile Hall. She also worked to collect and donate additional items that have come in while we have been sheltering in place.
Jordyn began her coat drive to benefit minors in Juvenile Hall during the winter soccer season and continued it during the shelter-in-place orders in the spring and summer. She found that so many people were taking the time to purge their gently-used items to benefit others. Jordyn has collected over 300 items including coats, clothing, shoes, blankets, bedding, baby items and more.
Jordyn and the soccer team won the CIF Northern California Championship last March. Soon after that achievement, shelter-in-place orders went into effect. She reflects, "COVID-19 has put into perspective the real challenges being faced in our community and the reality that you are never too young to make a difference. You are never too young to be the difference."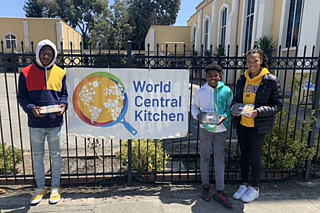 Additionally, Jordyn is volunteering for her church, Beebe Memorial Cathedral in Oakland, to provide prepared meals to essential workers and people in need of meals for themselves and their families. On August 6, 400 meals were distributed and there are two upcoming meal giveaway dates on August 28 and September 4.