Late April is usually the time that students begin reviewing for AP Exams and this year is no different.
Since our world has been rocked by the COVID-19 pandemic, some of the review activities have changed. Now they revolve around understanding the virus life cycle and how the immune response is activated to combat virus infection. Students also examined the molecular structure of the virus and studied the key proteins in virus-binding.
With that background, they were prepared to try to do something to help.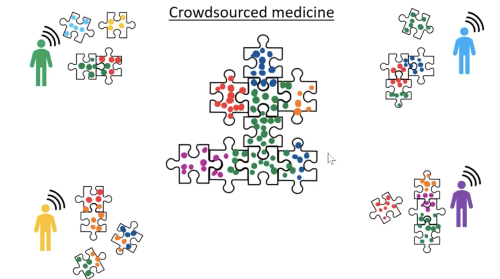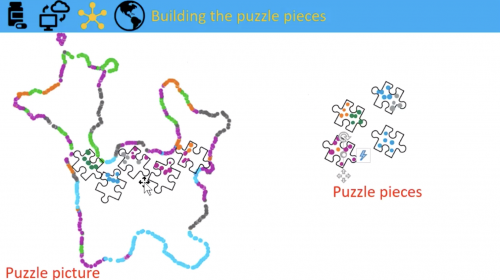 Dr. Benjamin Samudio, Director of Students Give Hope and Adjunct Assistant Professor of Chemistry at Sierra College in Rocklin visited our class meeting via Zoom.
He introduced his project and said, "The big idea is to include as many qualified students and citizen-scientists as possible in order to come with ideas for medicine."
He explained the function of the SARS main protease, an enzyme that plays a critical role in producing infectious virus in human cells, and introduced his crowdsource project to identify inhibitors of the virus that could act as a therapeutic.
Hannah Lee '20 said, "It was really different from the way we normally learn things. I liked feeling like I was helping create medicine needed for COVID-19 where thousands of people are being affected."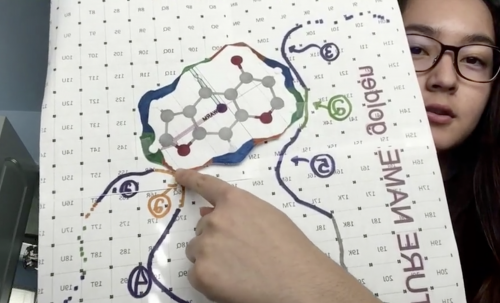 Students were asked to download paper "puzzle pieces" that Dr. Samudio created. Practicing rules of chemical interactions, students tried to find a best fit for their small molecules to bind the model of the SARS protease.
The closeness of the fit that the students identified have been uploaded to a database that will be used to identify potential drug inhibitors for SARS-CoV-2.
Students saw great benefit to working with an active study with the flexibility of being able to do so at home.
Caitlin Papalia '20 said, "I thought that having a guest scientist that works directly with something that is the main focus of society right now was really interesting. He prompted me to think of things that I have never thought of before."
"I think that this was a very good fit into our move to online learning," noted Olivia Braulik '21. "I enjoyed being able to print out, color, and work at home where I could spread out and focus on my individual molecule."
AP Biology contributes to search for COVID-19 treatment