Summer @ Carondelet

Middle school and elementary school programs
Carondelet's middle school and elementary school programs provide wonderful ways to keep girls and boys engaged during the summer months. Our interactive, educational courses will keep campers energized during the day and learning in a fun, caring environment.
Carondelet is also proud to partner with other organizations to offer courses for kids from Kindergarten through high school.
Middle school age courses
Monday, June 24 - Thursday, July 11
Rising 6th-9th graders
No classes on July 4 and 5
See courses and details below; click to expand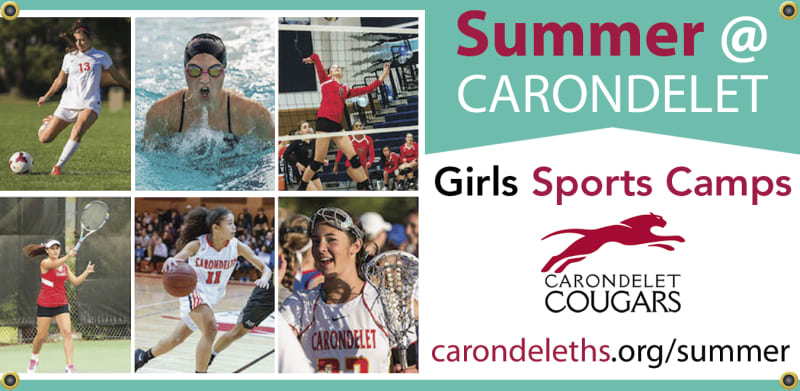 Carondelet Athletics welcomes you to join our Sports Camps this Summer. Open to girls and boys from 3rd - 9th grades. Choose from 12 sports offered in 27 sessions.
Sports Camps
Carondelet and iD Tech are proud to partner to empower kids and teens of all skill levels discover coding, AI, machine learning, film, robotics, and game design, developing the in-demand skills needed to compete at top Bay Area companies like Apple, Facebook, and Google. For over 20 years, iD Tech has guaranteed small class sizes, the best tech-savvy staff, and forward-thinking curriculum, producing stunning results.
Multiple courses each week from June 17 - July 26.
Girls and boys ages 7-9, 10-12, and 13-17.
See all iD Tech courses offered at Carondelet.
Carondelet is happy to partner with Mindful Littles to offer a camp as a fun and meaningful way for your little to spend their summer break! At Summer JAMMS (Joy, Art, Music, Mindfulness & Service), campers will participate in enriching games and activities that teach mindfulness, courage, compassion, and kindness.
July 8-12 or July 15-19
9:00 a.m. - 12:00 p.m.
For girls and boys, K-3rd.
$250
See all more info and register for Summer JAMMS here.
Common Questions
Coming soon
Other Summer Programs
Carondelet also offers sports camps for middle school girls and hosts co-ed camps for students in elementary and middle school.
---